For the first time in WNBA history, the Chicago Sky will host the 2022 AT&T WNBA All-Star game at Wintrust Arena.
The event will take place Saturday, July 9 and Sunday, July 10 and will be the centerpiece of a weekend full of WNBA activities, according to the WNBA.
In addition to the AT&T WNBA All-Star Game, the WNBA will unveil its new, two-day, "WNBA Live" at the nearby McCormick Place, the setting for the 2022 Nike Tournament of Champions and the Girls Nike Nationals. An interactive, outdoor event, WNBA Live will provide fans an opportunity to experience the intersection of the WNBA, entertainment and pop culture.
"The WNBA is excited to bring AT&T WNBA All-Star 2022 and an innovative new 'WNBA Live' event to Chicago, a city that showed such electric support for the Chicago Sky and the WNBA throughout last season and especially during the WNBA Finals presented by YouTube TV," said WNBA Commissioner Cathy Engelbert.

"We are thrilled to turn AT&T WNBA All-Star 2022 into a weekend-long event that will give WNBA fans incredible opportunities to engage with our brand and partners who have stepped up to support the WNBA. We look forward to unveiling exciting details regarding 'WNBA Live' in the weeks to come."
On Saturday, July 9, some of the league's biggest and brightest stars will display their talents for a special audience – the participants in the Girls Nike Nationals – as the two WNBA All-Star teams will conduct practices indoors at McCormick Place where the Nike TOC and Girls Nike Nationals are taking place. At 2 p.m. CT (3 p.m. ET), the 2022 MTN DEW 3-Point Contest and WNBA Skills Challenge will take place at McCormick Place, broadcast live by ESPN.
According to the WNBA All-Star Game bio, each conference will be represented by a team of 12 players who are currently having the best seasons performance-wise around the league.
The starters are determined by fans voting through internet ballots. The rest of the players are selected by league personnel including head coaches as well as media personalities. At the end of the game, an all-star game Most Valuable Player (MVP) is named, as decided by a panel of media members.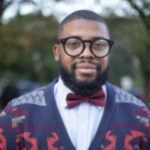 Joseph Phillips is the Sports Editor for the Chicago Crusader Newspaper. He is a Chicago native, who has been a sports writer for over 17 years. He also hosts the SC Media News and Sports Network Q&A radio show on WHPK 88.5 FM Chicago.