Chicago White Sox General Manager Chris Getz. Courtesy: MLB
After long time team executives Kenny Williams and Rick Hahn were relieved of their duties, the Chicago White Sox hired former player and executive Chris Getz to take over the General Manager position.
Since hiring Getz back in August, the new Sox GM has hired former major league utility infielder Josh Barfield as assistant GM, brought in former pitcher Brian Bannister as the team's senior adviser to pitching, and named longtime scout Gene Watson director of player personnel.
Following the Major League General Managers Meetings this week, Getz spoke to the Daily Herald about the state of the team.
"I don't like our team," said Getz to the Daily Herald. "We have a talented group, there is no question, but it's not a well-rounded club right now."
According to newly hired hitting coach Marcus Thames, Getz's goal is to make the team more athletic.
"I heard Getzy's interview, and he's trying to make some moves to make the team a little more athletic and get some guys to put the ball in play a little bit more," Thames said in interview with MLB.com. "And I like that vision."
In 2014, Getz was hired by the Kansas City Royals as their assistant to player development. He worked with them until 2016 when he went to the Chicago White Sox as director of player development from 2017 to 2020. There, he worked with many talented prospects like Luis Robert Jr., Yoán Moncada, Eloy Jiménez, Michael Kopech, Lucas Giolito, and Dylan Cease.
The White Sox farm system was ranked as the best in the MLB in 2017. In 2021, White Sox promoted him as Assistant General Manager to then-GM Rick Hahn. Following Hahn's firing on August 22, 2023, Getz was promoted as the White Sox new Senior Vice President and GM on August 31.
Getz was again selected by the White Sox in the fourth round (125th overall) of the 2005 MLB draft. In 2005, he played six games for the Great Falls White Sox, the Sox rookie league affiliate, batting .333 with 4 RBI.
He was later promoted to the Single-A Kannapolis Intimidators, where he played in 55 games and batted .307 with a home run and 28 RBI. In 2006, Getz played in 130 games for the Double-A Birmingham Barons, and hit .256 with two home runs and 36 RBI. Limited by injury, Getz played in just 72 games for Birmingham during the 2007 season, batting .299 with three home runs and 29 RBI.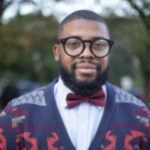 Joseph Phillips is the Sports Editor for the Chicago Crusader Newspaper. He is a Chicago native, who has been a sports writer for over 17 years. He also hosts the SC Media News and Sports Network Q&A radio show on WHPK 88.5 FM Chicago.