The National Bobblehead Hall of Fame Museum in collaboration with Negro Leagues History unveiled their officially licensed, limited-edition of the Satchel Paige Talking Baseball Bobblehead Series in the month of May.
"We are thrilled to unveil this special Satchel Paige Talking Baseball Bobblehead collection," said Phil Sklar, co-founder and CEO of the National Bobblehead Hall of Fame and Museum. "This first-of-its-kind series of bobbleheads gives fans the opportunity to hear Paige and other Negro Leaguers talk about Paige's amazing career in their very own collectible bobblehead."
According to the National Bobblehead Hall of Fame Museum, the series of 11 talking bobbleheads features Paige, a Mobile, Alabama, native and Kansas City Monarchs legend who was considered the most famous player in the history of the Negro Leagues.
The Paige bobbleheads, which all contain a historic audio clip are: Tip Your Cap, Hall of Fame 1942 in Jersey, Hall of Fame 1971 in Suit, 1940 Packard, Field of Legends, High Leg Kick, The Wind Up, Kissing the Baseball, In the Dugout, Relaxing in a Rocking Chair, and Signing Autographs.
The bobbleheads are also available through the National Bobblehead Hall of Fame and Museum's Online Store. The first nine bobbleheads in the series just arrived while the Kissing the Baseball and Signing Autographs Bobbleheads are shipping to customers in late May.
Each bobblehead is individually numbered to 1,971 to commemorate the year of Paige's induction into the Baseball Hall of Fame. The bobbleheads range in price from $40 to $55 each plus a flat-rate shipping charge of $8 per order, and a set of 11 is also available for $425.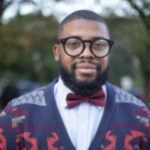 Joseph Phillips is the Sports Editor for the Chicago Crusader Newspaper. He is a Chicago native, who has been a sports writer for over 17 years. He also hosts the SC Media News and Sports Network Q&A radio show on WHPK 88.5 FM Chicago.