Known as the first African American golfer to play in the Masters, golfer Lee Elder died on Sunday, November 28, at the age of 87.
According to his bio, Elder became the first African American to play in the Masters Tournament, where he, unfortunately, missed the cut and was invited to the tournament after he won the 1974 Monsanto Open.
At the age of 12, Elder found himself moving from one impoverished neighborhood to another before being sent to Los Angeles, California, to live with his aunt. Elder frequently cut classes to work as a caddie, and after two years at Manual Arts High School, he dropped out.
Elder did not play a full round of 18 holes of golf until he was 16. He took jobs in pro shops and locker rooms, in addition to caddying, where he developed his game by watching his clients, and playing when he had the opportunity.
His game developed sufficiently for him to play competitively. Elder's career took a huge step after playing a match with heavyweight boxer Joe Louis, which led to Louis' golf instructor, Ted Rhodes, taking Elder under his wing for three years.
Under the tutelage of Rhodes, Elder was able to polish his game and he began playing in tournaments.
In 1959, Elder was drafted into the Army, and was sent to Fort Lewis, Washington. While at Fort Lewis, Elder had the good fortune to be under the command of Colonel John Gleaster, who was an avid golfer. Gleaster put Elder in a special services unit, which allowed him the opportunity to play golf on a steady basis.
The PGA lifted its color barrier in 1961, meaning non-white players could become members. In 1967 Elder raised enough money to attend qualifying school for the PGA Tour. He finished 9th out of a class of 122 and gained his tour card for 1968.
That year, he placed 40th on the money list, bringing in approximately $38,000. The highlight of Elder's rookie season was a memorable playoff loss to Jack Nicklaus at the American Golf Classic. Elder lost to Nicklaus on the fifth hole of sudden death.
In 1971, Elder accepted a personal invitation from Gary Player to participate in the South African PGA Championship in Johannesburg, South Africa. The event marked the first integrated tournament in the country's history.
In 1974, Elder earned his first win on the PGA Tour at the Monsanto Open, which gained him entry to the Masters Tournament in Augusta, Georgia, the following year. This marked the first time that an African American had qualified for the Masters since the tournament began 41 years earlier in 1934, which coincidentally was Elder's year of birth. Elder shot a 74ondayoneanda78ondaytwoof the 1975 Masters, missing the cut, but the impact of his presence in the field was clear.
In 1979, he became the first African American to qualify to play in the Ryder Cup. In 1984, at the age of 50, Elder joined the Senior PGA Tour.
Rainbow PUSH Coalition Founder Rev. Jesse L. Jackson, Sr., commented on Elder's death. "We are eternally grateful for the life of Lee Elder, who made history in 1975 as the first African American to compete in the PGA Masters Tournament. He was a true trailblazer who opened the doors for generations to walk through not only in the game he loved but his influence transcended into other sports where African Americans had not had a visible platform. His presence became an example of inclusion throughout the sports world."
After building a prestigious career in golf, Elder would also pave the way for African American golfer Tiger Woods and many others. Elder attended Woods' historic win at Augusta National back in 1997—which is still a great moment for all African American golfers across the nation.
Jackson spoke about the significance of the 2021 Augusta National Masters when Elder shot a ceremonial first tee. "Thank you to Augusta National for honoring Lee this past April while he was still with us. His legacy will surely live on, and we honor him today and extend our prayers and support to his family. May he rest in peace and power."
Born July 14, 1934, in Dallas, Texas, Elder was one of 10 children who were born to Charles and Almeta Elder's large family.
(Information courtesy of Lee Elder's bio).
Joseph Phillips is the Sports Editor for the Chicago Crusader Newspaper. He is a Chicago native, who has been a sports writer for over 17 years. He also hosts the SC Media News and Sports Network Q&A radio show on WHPK 88.5 FM Chicago. He can be reached at [email protected].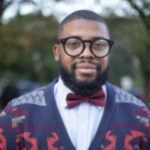 Joseph Phillips is the Sports Editor for the Chicago Crusader Newspaper. He is a Chicago native, who has been a sports writer for over 17 years. He also hosts the SC Media News and Sports Network Q&A radio show on WHPK 88.5 FM Chicago.