Photo caption: NEWLY NAMED McDonald's All-American Jeremy Fears posing with staff.
Standing six feet and weighing 180 pounds, the McDonald's All American Games honored point-guard prodigy Jeremy Fears of Joliet West High School on Saturday, February 11, with a Jersey Presentation.
Fears is the only player from Illinois to make the 2023 McDonald's All American Games national roster.
During the event, Fears was acknowledged for his phenomenal play and sportsmanship throughout the season. He was the only player from Illinois to make the 2023 McDonald's All American Games national roster.
"Jeremy Fears is a standout player whose talent rose above over hundreds of nominees across the nation to become one of the top 48 up-and-coming basketball superstars named by the McDonald's All American Games selection committee," said BMOA via a press release.
"The McDonald's All American Games jersey has been given to a number of future national league leaders – then young and hungry – who went on to become household names with record-breaking talent," the statement continued.
In addition to the presentation, McDonald's USA and the regional chapter of the Black McDonald's Operators Association invited all basketball lovers, players, and fans to watch Fears make history on Joliet West High School's hardwood.
"The Black McDonald's Operators Association is proud to have presented Jeremy Fears Jr. with his McDonald's All American Games jersey. He is joining an elite group of former All Americans, including Michael Jordan, Lebron James, Kobe Bryant, our very own hometown hero, Derek Rose. We certainly wish Jeremy the best in the upcoming game and are excited to see what the future holds for this remarkably talented young man." –Marvin Spence, Black McDonald's Operators Association.
According to 24/7 Sports scouting director Adam Finkelstein, Fears is also known as a true point guard who has natural charisma and leadership skills. Finkelstein honored Fears for his leadership skills in his scouting report.
"He knows how to run a team, has good floor vision and playmaking instincts, particularly in the open court and when playing pick-and-roll," said Finkelstein via his scouting report.
"He's very smart with a lot of tricks up his sleeve, although there are times when he doesn't always value the ball as much as he showed with USA Basketball. His size and measurables aren't overwhelming, but he's starting to build up his body, show more vertical leaping ability when he can elevate off of two feet, and play with more pace in the open floor. He has a playmaking instinct defensively, but, again, has times where he can be too risky gambling for steals, rather than sitting down and getting stops. His biggest swing skill is his shooting."
Finkelstein added: "He's a consistent threat with his pull-up but can jerk his release from behind the three-point line. Overall, Fears was at his best and most efficient version of himself, with USA Basketball, which should be a good indication of what we'll likely see at Michigan State."
With the selection, Fears joined the likes of Michael Jordan and numerous other amazing athletes after accepting his roster jersey from McDonald's this weekend.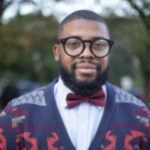 Joseph Phillips is the Sports Editor for the Chicago Crusader Newspaper. He is a Chicago native, who has been a sports writer for over 17 years. He also hosts the SC Media News and Sports Network Q&A radio show on WHPK 88.5 FM Chicago.