Photo caption: Chicago Bears Logo
After a record breaking first half performance by quarterback Justin Fields, the Chicago Bears surrendered 24 second half points in a 31-28 loss to the Denver Broncos on Sunday, October 1, at Soldier Field.
Sunday's match-up was a battle of two 0-3 teams with the Bears coming up short in the end.
"Obviously a hard-fought battle," said coach Matt Eberflus after a tough loss to the Broncos. "I thought the guys had passion and energy. You know, execution was really good in spots, and I thought that was a big improvement."
Coach Eberflus said his team did a very good job of responding to the Broncos defense forcing a fumble that led to a TD in the fourth quarter.
"I thought the guys did a really good job in terms of responding to adversity and putting ourselves in position to have a chance to win that game at the end," Eberflus said.
Eberflus also said he was pleased with the play of QB Justin Fields. Fields finished the game completing 28-of-35 passes for 335 yards and four touchdowns. This marked career-highs in all three categories. His 132.7 passer rating also set a new career-high, according to the Chicago Bears.
Fields also completed 16 of 17 passes for 231 yards and three touchdowns in the first half. Per @ESPNStatsInfo, since 2000, Fields' 16-16 start was the most consecutive completions to start a game by any Bears quarterback.
This was also the most passing yards for Fields in a first half in his career. Fields' 158.3 quarterback rating was also the highest in the first half of his career. Bears wide receiver DJ Moore finished the game with eight catches for 131 yards and one touchdown. This set a season-high in catches and yards for Moore and was tied for the second-most catches and tied for the third-most receiving yards in his career.
Final Score: Bears 28, Broncos 31
Up next, the Bears will play Washington on Thursday, October 5, on the road. Game time 7:15 p.m. According to the Bears, this marks the second straight season the two clubs will be meeting under the lights on Thursday Night Football. The last meeting between the two clubs in Washington was also on primetime television back in 2019, resulting in a 31-15 Bears victory on Monday Night Football (Sept. 23).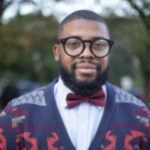 Joseph Phillips is the Sports Editor for the Chicago Crusader Newspaper. He is a Chicago native, who has been a sports writer for over 17 years. He also hosts the SC Media News and Sports Network Q&A radio show on WHPK 88.5 FM Chicago.