As a 33-year old proud product of the Englewood community, Coach Josh "Jay" Crenshaw started coaching at the age of 16 as a Summer Recreational Activities Instructor for the Chicago Park District.
Since then, Coach Crenshaw has helped many in the field of sports. This includes working as Head Assistant Coach in baseball and basketball at Fenger High School, Head Assistant Coach in baseball and basketball at CICS Longwood and currently as administrator over a sports camp for ages 8-16 in basketball, baseball, football, soccer, Strength & Conditioning, and Track & Academic Study Hall at Ogden Park.
"I've since helped as [a] Head Assistant Coach in Baseball and Basketball at Fenger High School and CICS Longwood winning conference at both schools," said Crenshaw. "I not only have a passion for training and coaching but also mentoring, molding [and] educating may be my biggest gifts."
In an interview with the Crusader, Crenshaw said he has an open door policy when it comes to helping student athletes (male or female) find college and scholarship opportunities.
Growing up on the Southside of Chicago in Englewood on 64th and Parnell, Crenshaw knew he had a different mindset than the rest of his peers. Crenshaw said he had a [strong] work ethic and was a natural leader who some would say was arrogant.
"They might have been right," Crenshaw said.
He explained his drive and motivation to the Crusader. "Being from Parnell [street] is special," he said. "It ain't for the weak and it ain't for the lazy.
"It's talent all over where I'm from. [We've produced] athletes, models, rappers, poets, educators etc. Being a hard worker and blessed with gifted coaches, teammates, a love for sports and a high IQ, helped make a name for Ogden Park and a name for myself in the process."
During his childhood, Crenshaw played everything from basketball, baseball, and football to cross country, wrestling, floor hockey and table tennis. Crenshaw said he's won city championships in most of those sports with the exception of table tennis.
"I was the 'talk it like I walk it' athlete [growing up]," said Crenshaw.
"I loved to compete. I love to win even til this day. My personality is 'BIG.' I'm a confident person. I believe if you put the work in and let it show and I['ll] show it. [It's] The same with coaching and training. When I'm locked in I only see growth, getting to the next level, and getting the most and the best out of the student athletes I work with."
Crenshaw said his love for sports eventually motivated him to coach at a young age. During his college days, he had the opportunity to coach the Chicago White Sox RBI Baseball Team and coached the ICYB South Side All Star Teams.
"My very first team made me who I am," said Crenshaw. "[It] gave me the fire to be 'Coach Jay' and the opportunity to work with and teach [many young people]. It was a blessing 'because Lord' they could PLAY!!!"
As a coach and a trainer, Coach Crenshaw has helped produce the likes of athletes such as Davon Horace, Nate Powell, Timon Watkins, Raphe Gross, Darnell Cockrell, Chris Jones, and Antonio Alsup out of Chicago.
"[It] all opened the door for me to work with future athletes like Ronzell Fort, Jacquez Woodland, Colby Cline, Tierre Turner, Lamarius Bellamy and many more," Crenshaw said.
Recently, Crenshaw joined the CICS Longwood Panthers Basketball Team under the direction of Coach Keyon Smothers. Crenshaw helped Coach Smothers and the Panthers win the 2022 White South Conference Championship in high school basketball.
"I love coach 'Keys'." said Crenshaw about Coach Keyon Smothers. "He holds you accountable."
Coach Crenshaw is not only a leader of young men and women in the sports industry but family as well. He is married to Sherita Butler and has three children, Emanuel, Mekhi and Bella.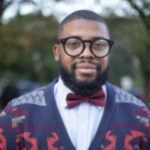 Joseph Phillips is the Sports Editor for the Chicago Crusader Newspaper. He is a Chicago native, who has been a sports writer for over 17 years. He also hosts the SC Media News and Sports Network Q&A radio show on WHPK 88.5 FM Chicago.