Photo caption: Coach Robert Smith (Photo credit: NIKE and The Chicago Elite Classic) 
After winning his 7th City Championship in February against Kenwood, coach Robert Smith and the Simeon Wolverines fell to the Metamora Redbirds in overtime 46-42, in the 2023 IHSA 3A State Championship on Saturday, March 11th.
According to Champaign 25 News, the Redbirds were crowned state champions in boys basketball for the first time in school history. The Redbirds defeated the Wolverines in overtime for the Class 3A State Title.
During the game, the Redbirds trailed the Wolverines by 10 points in the second quarter and by 9 points at halftime. After falling behind, the Redbirds opened the second half on a 10-0 run.
The fourth quarter saw the Redbirds build a 4-point lead before Simeon tied the game with less than 2 minutes to go. During OT, the Wolverines briefly led by 2, but saw the Redbirds overcome a two point deficit and earn the state title.
Final Score: Simeon 42, Metamora 46
In honor of Coach Robert Smith retiring at the end of this season, the Crusader reflected on the history of Simeon Wolverines Basketball and Smith's impact on the program. Smith will retire with seven city titles and six state championships as a head coach:
According to the school's bio, Simeon is the first Chicago public school to win four consecutive basketball state titles, and the second statewide. Simeon won the IHSA Class AA state boys' basketball championships three times; 1983–84, 2005–06 (with Derrick Rose), and 2006–07 (with Derrick Rose). They also won the Class 4A championship four times; 2009–10, 2010–11, 2011–12, and 2012–13 (which tied Manual High School for the longest Illinois state championship title run). Simeon's boys' basketball team was ranked first in the United States in ESPN H.S.'s 2011 preseason rankings. Led by Jabari Parker and Kendrick Nunn, they won the 2012 Illinois Class 4A championship by defeating Proviso East High School.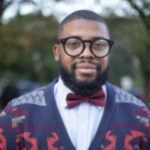 Joseph Phillips is the Sports Editor for the Chicago Crusader Newspaper. He is a Chicago native, who has been a sports writer for over 17 years. He also hosts the SC Media News and Sports Network Q&A radio show on WHPK 88.5 FM Chicago.