The Chicago Bears lost their third game of the season to the Kansas City Chiefs 41-10, on Sunday, September 24, on the road.
The Bears had no answer for the Chiefs offense, who scored seven points in the first quarter, a game-high 27 points in the second quarter and seven points in the third quarter.
Although the Bears would score 10 points in the fourth quarter, the team could not overcome a 31 point lead establish by the Chiefs. Quarterback Justin Fields finished with 99 yards, one touchdown and one interception. Chiefs QB Patrick Mahomes passed for 272 yards and 3 TDs.
In addition to his 3 TD passing game, Mahomes became the fastest QB in NFL history to pass for 25,000 yards in his career.
"It really is cool," said Mahomes via ESPN. "Doing it at Arrowhead … it's a tremendous honor to be a part of this organization and be able to do stuff like that at this stadium. It'll be stuff I remember the rest of my life."
On the teams offense, "It always feels good to get the whole offense going," said Mahomes via ESPN. "The first two weeks, we just have been out of rhythm. We haven't got drives and sustained drives going, and so just to not have those killer penalties and to get the offense moving in the right direction, then all the other stuff kind of comes with it. So I was proud of the guys today. Still little things here and there we can tweak, but it was a step in the right direction."
Final Score: Bears 10, Chiefs 41
With the loss, the Bears are now 0-3 on the season. The Bears will play the Denver Broncos on Sunday, October 1, at Soldier Field. Game time at 12 noon.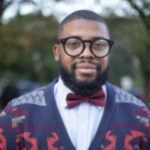 Joseph Phillips is the Sports Editor for the Chicago Crusader Newspaper. He is a Chicago native, who has been a sports writer for over 17 years. He also hosts the SC Media News and Sports Network Q&A radio show on WHPK 88.5 FM Chicago.