Photo caption: JALIL LENORE (#33) holds up the Black College Football Hall of Fame Classic game trophy won by the Marauders in a 41-21 victory against Winston Salem State at Tom Benson Hall of Fame Stadium in Canton, Ohio.
25th Annual Chicago Football Classic will showcase his, and other HBCU athletes', talent
Known as one of the best linebackers in the country, Central State University's Jalil Lenore says he has a lot to prove as a player this season and is looking forward to returning home to play in the 25th Annual Chicago Football Classic.
The event is the first Classic held since the start of the pandemic.
"Tough times made me who I am [today]," said Lenore, in a phone interview with the Crusader. "Going through things and being able to keep my head up and staying focused on what I wanted to get out of my life helped me through the struggle. I always took full accountability for any circumstance that I was in."
Originally from Chicago, Lenore sat down with the Chicago Crusader on Saturday, July 22, to discuss his passion for football, community work, and the importance of playing in his hometown on Saturday, September 2, at Soldier Field.
With a desire to persevere and overcome challenges as an athlete, Lenore said his passion for football started at the young age of five, playing for the Pop Warner Dolton Bears, in Dolton, Illinois.
Lenore said he played eight seasons for the organization and from ages five through 13 his playing ability was developed by coaches Leroy, Applewhite, and Dennis.
Due to establishing a hard work ethic as a child, Lenore said he has never complained or given up on the sport he loves the most: football.
"Hard times made me strong and now I'm at a point where nothing can break me," said Lenore about his desire to play the game he loves. "My life is bigger than myself, and I don't believe in complaining."
When it comes to giving back to the community, Lenore shared with the Crusader that in the past, he has worked with his older brother at a Food Drive on 105th and Halsted in Chicago, distributing food to the community.
In addition to Lenore's community-focused contributions, the next time he visits the city will be for a special occasion. He will play before family and friends at Soldier Field in the 2023 Chicago Football Classic, featuring Central State University versus Mississippi Valley State University.
"It's important for me to play in the Classic," said Lenore about returning to his hometown to play. "I get to show off my talent, and display my skills in front of family, friends and the community that raised me."
Lenore also mentioned the importance of advertising HBCU schools in the city of Chicago. He encourages all Christian students to stay strong in their beliefs and keep the Word of God prominent in their lives.
At the age of 21, the 6′ foot 2″, 220-pound linebacker, out of Bremen High School in south suburban Midlothian, says he lives by three words: "Destined For Greatness!"
And under the leadership of head coach Kevin Porter, the Central State University Marauders will kick off the season Saturday, September 2, against Mississippi Valley State in the 25th edition of the Classic. According to CSU, the school will make its fifth appearance in the CFC and its first since the 2016 season.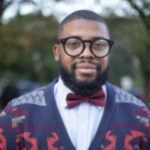 Joseph Phillips is the Sports Editor for the Chicago Crusader Newspaper. He is a Chicago native, who has been a sports writer for over 17 years. He also hosts the SC Media News and Sports Network Q&A radio show on WHPK 88.5 FM Chicago.