In a recent announcement, the Chicago Bears retained two scouting assistants, Keith Earle, Jr., and Jake Ponikvar in September. The two assistants are coming off their 2022 Nunn-Wooten Scouting Fellowship during training camp with the organization.
According to the Chicago Bears and GM Ryan Poles, Earle joins the Bears' training camp personnel staff from Montgomery Township, PA, where he currently works as a community and recreation center facility supervisor.
In 2021, he earned his Master of Science degree in Sport Administration with an emphasis in Sport Business Leadership from Hampton University. Earle's first NFL experience also came in 2021, when he served as a player personnel intern during the Philadelphia Eagles' training camp.
A 2020 graduate of Lafayette College, Earle earned his bachelor's degree in government and law. He also played linebacker and defensive lineman for the Leopards, where he appeared in 35 games across four seasons. He finished his career with 97 tackles, 12.5 tackles for loss, 7.0 sacks, seven passes defensed and one interception. Earle is a native of North Wales, PA.
Ponikvar joins the player personnel staff from Bridgeville, PA. He recently graduated from Slippery Rock University (PA) in May 2022 with a Bachelor of Science degree in Sport Management. He also was a member of the Sport Management Alliance at Slippery Rock.
Prior to his graduation from Slippery Rock, Ponikvar worked as a football recruiting and player personnel intern for Syracuse University in 2022. He also spent two years working as a student intern for Slippery Rock University's football program where he spent time breaking down film, assisting with game and field preparation and assisting with the team's equipment logistics.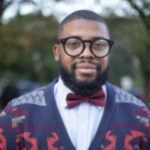 Joseph Phillips is the Sports Editor for the Chicago Crusader Newspaper. He is a Chicago native, who has been a sports writer for over 17 years. He also hosts the SC Media News and Sports Network Q&A radio show on WHPK 88.5 FM Chicago.