In spite of 104 rushing yards by quarterback Justin Fields, the Chicago Bears would lose to the Detroit Lions 31-26, on Sunday, November 19, on the road. The Bears led big throughout the game but surrendered the lead late in the fourth quarter.
Fields made his first appearance since Week 6, and went 16 of 23 for 169 yards with one touchdown.
This game also marked Fields fifth career, 100-yard rushing game and first of the season. He found wide receiver DJ Moore for a 39-yard touchdown pass in the third quarter to give the Bears the lead.
Moore 14-yard reception in the first quarter, helped him eclipsed the 6,000 yard mark for his career and 800 on the season. He is the first player drafted in 2018 or later to reach the 6,000 yard mark.
Moore finished the game with seven catches for 96 yards and one touchdown. Coming into the game, he ranked ninth in the NFL in receiving yards, tied for tenth in the NFL and tied for fifth in the NFC.
Dating back to the start of the 1970 NFL season, Moore's 889 receiving yards in Weeks 1-11 is the third-highest total by a Bears pass-catcher.
The opening drive, the Bears had five plays of 10 or more yards. The 10-play, 75-yard drive ended in a Bears touchdown powered in by running back D'Onta Foreman.
This marked Foreman's fourth rushing touchdown on the season and the 14th of his career. The Bears offense held the ball for 40:24.
This also marked the highest time of possession for the Bears on the season, their second-highest since 2000 (2006 Week 15-41:56) and second-highest in the NFL this season (Dallas Week 2- 42:15).
The Bears defense finished the game with a season-high four takeaways (three interceptions, one fumble recovery). This marked the second game this season with three interceptions and fourth game with multiple takeaways. The Bears last caused three turnovers in Week 7 against the Raiders.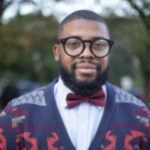 Joseph Phillips is the Sports Editor for the Chicago Crusader Newspaper. He is a Chicago native, who has been a sports writer for over 17 years. He also hosts the SC Media News and Sports Network Q&A radio show on WHPK 88.5 FM Chicago.