The Chicago Bears named Lane Tech College Prep football coach Dedrick DeWalt their "Coach of the Week" for Week 3 of the 2022 IHSA season.
In honor of coach DeWalt, the Bears will make a $2,000 donation to the Lane Tech football program. DeWalt helped lead his team to a 35-0 home non-conference game victory against the Hubbard Greyhounds (0-3) of Chicago.
This victory made history, leading Lane Tech to a 3-0 start for the first time in 15 seasons. Just into his second season, DeWalt has already made an impact in changing the culture of Lane Tech's football program since being hired in Spring, 2020.
Before landing the head coach role for Lane Tech, Dewalt, a CPS grad of Simeon High School, played football for Boston College for four years. After college, he played in the NFL; two years for the Tennessee Titans and two years for the St. Louis Rams.
As an experienced coach and former NFL player, DeWalt is ready to keep building on the team's momentum, hoping to compete for the city championship and IHSA state tournament later this fall.
According to the Bears, their "Coach of the Week" and the "High School All-Stars" programs are supported by Athletico Physical Therapy.
The Chicago Bears "Coach of the Week" program was launched in 1996 and "High School All-Star" program in 2011. The "Coach of the Week" program honors outstanding Illinois high school coaches who develop players' football skills and knowledge, character, leadership, discipline and teamwork abilities. The nomination criteria for the "High School All-Star" program includes on-field performance, community involvement and good sportsmanship.
Deserving high school coaches and players are nominated by a panel of local prep authorities; the winning player is selected each week from August 26-October 22.
Since the program's inception, the Bears have donated more than $346,500 to Illinois high schools in support of their football programs. For more information, visit chicagobears.com/community.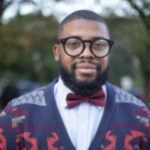 Joseph Phillips is the Sports Editor for the Chicago Crusader Newspaper. He is a Chicago native, who has been a sports writer for over 17 years. He also hosts the SC Media News and Sports Network Q&A radio show on WHPK 88.5 FM Chicago.