Chicago Bears President and CEO Ted Phillips said he will retire at the end of the 2022-23 NFL season. According to the Chicago Bears, the executive's career spans 40 seasons with one of the NFL's charter franchises.
"I have been truly blessed with the honor of working for the Chicago Bears for 40 seasons and look forward to leading the team through the 2022 season. I appreciate the support of the McCaskey family and to be involved in overseeing this amazing growth of the Chicago Bears through the years, is a dream come true," said Phillips.

"Every day has been a true pleasure and being surrounded by so many talented and wonderful people has made my job richly rewarding on many levels. I will always bleed blue and orange and forever be proud to be a part of the Chicago Bears family."
Since taking the helm, Phillips has insisted on attention to detail and smooth execution at every level of the Bears operation. He has solidified the long-term stability of the club, while staying focused on bringing a 10th championship to the NFL's premier franchise.
A trusted and valued member of the club for nearly 40 years, Phillips was named team President and CEO on February 10, 1999. He is only the fourth person to serve as president in the organization's storied 102-year history, and the first outside the Halas-McCaskey family following Michael McCaskey, George "Mugs" Halas, Jr., and George S. Halas.
"He started out with us as a financial expert. Anything that he was ever asked to take care of, he came through and did it very well. We've been very blessed to have him," said Bears owner Virginia Halas McCaskey.
The search for Phillips' successor is underway and will be announced by the Bears in the coming months.
(Information courtesy of the Chicago Bears)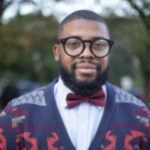 Joseph Phillips is the Sports Editor for the Chicago Crusader Newspaper. He is a Chicago native, who has been a sports writer for over 17 years. He also hosts the SC Media News and Sports Network Q&A radio show on WHPK 88.5 FM Chicago.