In a recent announcement, the Chicago Bears hired new members to the football operations staff, including three in the scouting department.
According to the Chicago Bears, the three scouts joining General Manager Ryan Poles' scouting staff include Reese Hicks (West Coast Area Scout), Tom Bradway (Northeast Area Scout) and Ryan Cavanaugh (Midwest Area Scout).
Hicks joins the Bears from the Atlanta Falcons, where he spent the previous four seasons as a pro scout (2018-21). Prior to his promotion, he spent the 2017 season as the Falcons' scouting assistant. In 2016, he served as a recruiting assistant for the University of Utah's football program.
After graduating from Georgetown College (Ky.), Hicks spent three seasons playing offensive line for the following teams: the Houston Texans, Cincinnati Bengals, Denver Broncos and San Diego Chargers (2003-06).
Bradway arrives in Chicago with three years of NFL scouting experience, all of which were spent with the Las Vegas Raiders. His first opportunity with the Raiders came in 2019, when he was hired as a player personnel scout before being promoted to BLESTO scout in 2020.
Before arriving in Las Vegas, Bradway worked for Stryker, a medical technology company, as a trauma sales associate for a year (2018-19). A 2017 graduate, he played football at Temple University, lettering twice. After graduating from Temple, Bradway returned to Philadelphia in 2018 to serve as a football operations/recruiting graduate assistant for a little over a year.
Cavanaugh brings 20 years of NFL scouting experience with him to Chicago. Most recently, he served as the college scouting coordinator for one year at Ohio State University (2021). Before joining the Buckeyes, Cavanaugh spent 12 seasons with the Houston Texans' scouting department covering the Midwest and Northeast areas throughout his tenure (2009-20).
Cavanaugh's first NFL opportunity came in 2000 when he worked within the Indianapolis Colts' operations department during minicamp and training camp. He then began his scouting career in 2001 with the club's scouting department, where he served as an area scout for six of his eight years in Indianapolis (2001-09).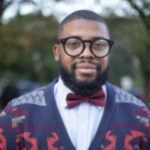 Joseph Phillips is the Sports Editor for the Chicago Crusader Newspaper. He is a Chicago native, who has been a sports writer for over 17 years. He also hosts the SC Media News and Sports Network Q&A radio show on WHPK 88.5 FM Chicago.