After closing out a five-game series in four wins against the Seattle Storm, Las Vegas Aces standout A'ja Wilson was named the 2022 WNBA MVP on Wednesday, September 7, according to several media outlets.
"It doesn't even sound real," said Wilson via ESPN after winning her second MVP trophy in two years. "It's something you don't really even dream of. You look at the list of people who have won more than one, and it's incredible to think about. I smile just to have my name in [the] MVP conversation, because our league is so tough."
According to her bio, Wilson played for the South Carolina Gamecocks during her collegiate career, and helped lead the Gamecocks to their first NCAA Women's Basketball Championship in 2017.
In addition to winning the National Championship, Wilson also won the NCAA Basketball Tournament's Most Outstanding Player Award. In 2018, she won a record 3rd straight SEC Player of the Year Award while leading the Gamecocks to a record 4th straight SEC Tournament Championship.
Wilson became the all-time leading scorer in South Carolina women's basketball history, and was a consensus first-team All-American for the 3rd consecutive season. Wilson swept all National Player of the Year awards (Wade, AP, Honda, USBWA, Wooden, and Naismith) as the best player in Women's College basketball for 2018. In the 2018 WNBA draft, she was drafted first overall by the Aces. Wilson won WNBA MVP in 2020, and she won her first Olympic Gold medal in the 2020 Summer Olympics.
Recently, Wilson was also named the WNBA Defensive Player of The Year. She is now known this season as the best offensive and defensive player in the WNBA. The top runner-up to Wilson in MVP voting was Seattle Storm forward Breanna Stewart. Stewart finished with 446 points and 23 first-place votes.
Wilson finished with a scoring average of 19.5 points per game.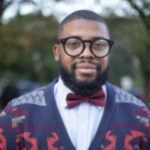 Joseph Phillips is the Sports Editor for the Chicago Crusader Newspaper. He is a Chicago native, who has been a sports writer for over 17 years. He also hosts the SC Media News and Sports Network Q&A radio show on WHPK 88.5 FM Chicago.