Police will receive a whopping 41% raise in pay
Darren Bryant, Mayor of Robbins, Illinois recently joined the Robbins Village Board, Robbins Police Personnel, Police Union Officials, and residents as they gathered to witness the public signing of the new police contract. The signing marks the end of an era in which Robbins Police have been grossly underpaid, forced to work in unsafe conditions, and little to no support from previous administrations.
Mayor Bryant is credited for ending the police crisis in just his first year in office. In fact, the signing of the contract on May 12, 2022, was also the day that marked Mayor Bryant's first year anniversary as the Mayor of Robbins.
"I am grateful, honored, and blessed by Chief Sheppard and the Robbins Village Board for their efforts in assisting me to secure this new agreement with our brave men and women of the Robbins Police Department. While campaigning for this office, I promised the voters that I would fight hard to end the not-so-pleasant history of Robbins not supporting its police department. Well today, we have finally turned that page from the past." says Mayor Bryant.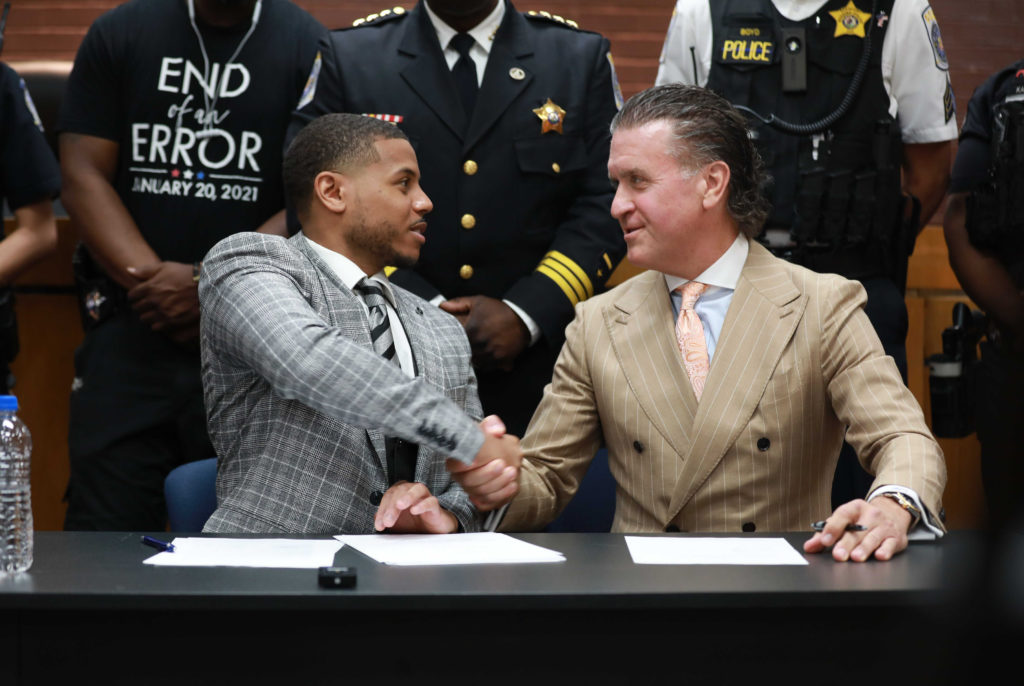 Robbins Police Chief David Sheppard adds, "This is an historic but also an emotional day for our department. The Mayor and I assured our officers that we would fight to get an agreement done that would not only address their rate of pay but would also address the lack of resources that would keep them safe while performing their duties. It is these fundamental resources that they now will have that will enhance our mission of keeping Robbins safe."
Aspects of the new agreement and purchased resources for the Robbins Police include:
Police Officers base salary will increase from $11.50 to $17.25 over the life of the contract amounting to a 41% increase in hourly pay.
28 new body cameras. This was done 3 years ahead of the 2025 deadline created by the state.
28 new top of the line Tasers. This was done to outfit the officers with the latest and best less–than lethal alternatives when needed.
2 virtual reality (VR) training units. This was done to provide the officers with latest technology to better train them on situational events.
21 new ballistic vests for current and/or newly hired officers. (The administration will continue to purchase and supply each officer with a new vest as needed prior to them working the streets.)
8 License Plate Reader (LPR) camera and installed them within the village. (Due to the sharing capabilities of these cameras with other agencies, we now have access to over 459 LPR cameras.)
15 new mobile phones that are being used by detectives and specialty units.
Purchased Mobile Hot Spots to be use with the 9 Mobile Data Terminals (MDT) in which the administration is currently reviewing for purchase.