The Love, Unity & Values (LUV) Institute will promote empathy and healing in the community through an uplifting exhibition called the Parade of Hearts. Featuring 12 large, heart-shaped sculptures with images that spread messages of love, hope, and resiliency, the Parade of Hearts seeks to foster a culture of compassion and belonging, as well as provide an opportunity for reflection and healing as communities have been trying to recover from the trauma of COVID-19 and social injustices.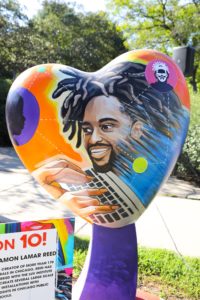 Community members are invited to join the organization on August 20 from 9:00 a.m. to 2:00 p.m. for a bike/walk event to tour the exhibition, learn more about the art, and how they can help foster a positive, local impact. Those who are interested can register online at luvinstitute.org.
"We have made it our mission to build healthy relationships and foster artistic creativity that will empower our youth and future leaders of tomorrow for generations," said Cosette Nazon-Wilburn, Executive Director of the LUV Institute. "Through the Parade of Hearts, we invite Chicagoans to consider the ways they can create more connected, caring communities across the city."
The LUV Institute, which is celebrating 10 years of serving communities, has been working withunderserved youth, with a mission to inspire hope and empower them with economic opportunities while building resiliency and social-emotional competencies. The organization operates with the awareness that whilethe impact of long-term poverty and violence on Chicago's neighborhoods is clear, what's not so evident is how their harmful influence affects the city's young people.
The cohort of local artists, whose collective contributions make up the Parade of Hearts, is led by longtime LUVcollaborator Damon Lamar Reed, who has created more than 170 murals in Chicago. Other participating artists include Abena Motaboli, Haerim Lee, JessTimeless, Melana Bass, P.J. Stewart, Pugz Atomz, Raven Smith, ROHO Garcia, Shala, and Shiree Davis.
For more information on the Parade of Hearts, visit https://www.luvinstitute.org/youth- empowerment-programs/special-projects/parade-of-hearts.