Music Box Theatre and Neon present writer/director Hirokazu ("Shoplifters") Kore-eda's tenderly melancholic "Broker," beginning January 6, 2023.
"Broker is sentimental and sweet, often funny, and a lighter take on Kore-eda's ongoing project of exploring chosen families." — Vox
"It's impossible not to be beguiled by the sweetness of the comedy, the skill of the performers, and sheer craft of the film." — CineVue
"The performances are uniformly alive and the characters fully inhabited, with genuine satisfaction to be had from the whole-cloth nature of the proceedings." — Deadline Hollywood Daily
"The execution of this premise is, somehow, miraculous in its sensitivity, asking questions about issues of ethics, of choice, of money, and murder, and family, and how to find love in all this sorry mess." — IndieWire
Five years after winning the Palme d'Or for "Shoplifters," Academy award-nominated filmmaker Hirokazu Kore-eda returns with "Broker," starring Cannes Best Actor-winner Song Kang-ho ("Parasite"). The film follows two brokers who sell orphaned infants, circumventing the bureaucracy of legal adoption, to affluent couples who can't have children of their own. After an infant's mother surprises the duo by returning to ensure her child finds a good home, the three embark on a journey to find the right couple, building an unlikely family of their own.
This was such a delightful film, even though the subject matter might not be pleasing to all moviegoers. I was sold on it when I learned that Song Kang-ho was one of the actors appearing in the film. He was so good as the father in the award-winning film, "Parasite." He plays a seamstress who owns his own laundry, but that's just a front for his side business—selling infants that he has "rescued" from the local orphanage with help from his friend, Dong-soo, played by Gang Dong-won.
So-young, played by actress Lee Ji-uen, is the young lady who has given her baby up by placing it into a baby box at the orphanage, expecting that the boy will be raised by the orphanage. However, she learns that Sang-hyeon, played by Song Kang Ho, has taken possession of the infant and plans to sell it to the highest bidder.
She is upset and tracks the brokers down, asking how can they sell her baby; they, in turn, ask how could she give her baby away. Then there is a murdered mobster, who turns out to be So-young's married lover; a run-away orphan who is about 6-years-old, who just wants to hang out with the trio in the van as they traipse through town after town; police who appear to be police officers, but may be brokers themselves, and mobsters who are after Sang-hyeon for protection money that I suppose he is committed to paying every month.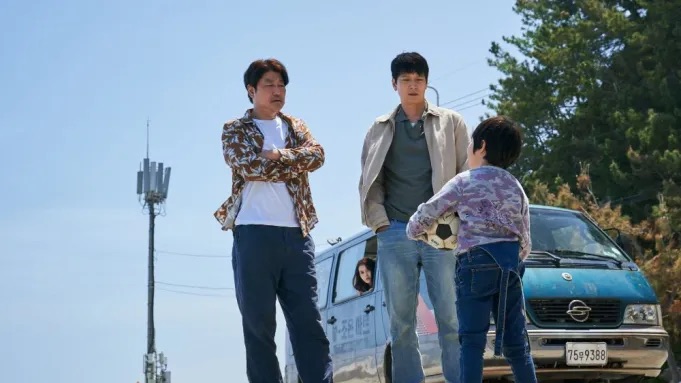 After following leads on a couple of parents, the brokers are finally able to find a qualified couple. However, by this time, So-young and Dong-soo have forged a relationship that hints at those two raising the baby themselves. And things only end well for the baby, but not for the brokers or the young mother who just wanted to do the best by her son. This is a delightful film filled with laughter, adventure and circumspect moments about babies for sale and that dynamic in some Asian countries.
Take a look at the trailer: https://youtu.be/vm3B-fDc9Xw.
"Brokers" is playing at the Music Box Theatre, presented with English subtitles. For showtimes and information on the film, click here: https://musicboxtheatre.com/films-and-events/broker.