June 19, 2022 was Father's Day but it also was the day that Lerone Bennett Jr. Parkway was named on South Chicago Beach Drive, from East 48th Street to East 49th Street. Family and friends gathered at South Chicago Beach Drive, along with 4th Ward Alderman Sophia D. King, who received approval for the street naming.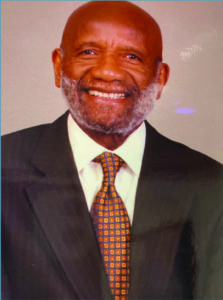 Lerone Bennett Jr was a journalist and legendary historian of Black America. He was born in Clarksdale, Mississippi on October 17, 1928. He was also known as one of Atlanta, Georgia's Morehouse College's most distinguished Alumnus. His career in journalism began at the age of twelve at the Black-owned newspaper The Mississippi Enterprise. After college he worked for the Atlanta Daily World.
He began his career at Johnson Publishing Company as the City editor of Jet Magazine and served as Ebony Magazine's renowned editor for more than 50 years. His articles became one of the magazine's literary hallmarks and he was also an award-winning author of multiple books. His first book "Before the Mayflower: a History of Black America came as a result of a series of articles that were originally published in Ebony Magazine
His first book was Before the Mayflower: A History of Black America 1619-1962. In 1978 he received the American Academy Arts and Letters, Literature Award. In 1954 he published an article about the children of Thomas Jefferson and his slave Sally Hemings; which was verified decades later using DNA evidence.
He also penned What Manner of Man: A Biography of Martin Luther King, Jr. King was his Morehouse college classmate.
Additionally, he wrote Succeeding Against the Odds. This is the autobiography of EBONY publisher John H. Johnson, co-authored with the publisher.
Finally, he authored Forced Into Glory. It was published in 2000 and is his most controversial book.
Often called "The People's Historian" Bennett was a trusted and revered scholar. His books, poems, and short stories have been translated into French, German, Japanese, Swedish, Arabic and Russian.
He was a visiting professor at Northwestern University. Lerone graduated from Morehouse College in Atlanta in 1949, where he was classmates with Martin Luther King, Jr. Bennett interviewed King about the Montgomery bus boycott in 1955, and in 1964 wrote What Manner of Man: A Biography of Martin Luther King. Bennett was a Korean War veteran.
He was a recipient of many awards and recognitions including the Literature Award of the Academy of Arts and Letters; Book of The Year Award from Capital Press Club; Patron Saints Award from the Society of Midland Authors; American Book Award For "Forced Into Glory," The "Salute To Greatness" Award – The highest honor of the Martin Luther King Jr. Center For Nonviolent Social Change; The Carter G. Woodson Medallion – the highest honor of the Association for the Study of African-American Life And History; Hall of Fame Inductee of The National Association of Black Journalists; Founding sponsor of the Washington, D.C., Martin Luther King Jr., National Memorial Project Foundation; and International Civil Rights Walk of Fame Inductee- Atlanta. President Appointments include the President's Committee on the Arts and Humanities – President Bill Clinton and the Presidential Commission on the Proposed National Museum of African-American History and Culture – President George W. Bush.