The third principal of Kwanzaa is Ujima, which means collective work and responsibility.  For Mattie Butler, collective work was second nature, while growing up in the Cabrini Green housing development with her parents and five siblings.  Witnessing her parents helping others laid the foundation for the work that Butler would perform decades later in the community that she called home for more than 45 years: Woodlawn.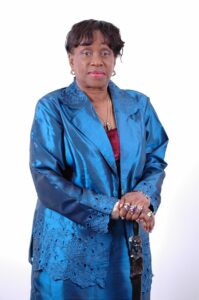 In 1980, fires ravaged the Woodlawn community. One occurred two doors from Butler's home that tragically claimed the lives of 13 children that Butler knew very well.  In her investigation of the fires, Butler discovered that 90 percent of the fires were by arsonists.  This finding triggered the formation of Woodlawn East Community and Neighbors—known as WECAN—whose mission is to address the changing needs and issues of the Woodlawn community, with the strategy to build from within.
For over four decades, Butler structured WECAN into a powerhouse organization that developed housing; created jobs; helped to revitalize and rebuild low-to-moderate income areas in Chicago; administered programs for drug and delinquency prevention; and provided education and support services— serving up to 6,000 people a year. The staff raised funds to send youth to college and prevented close to 6,000 units of housing from being abandoned.
Small in stature, but a warrior at heart, Butler not only used her voice to strike down inequality and catalyze for strong and viable communities; for 11 years, her voice uplifted audiences as she performed background vocals for her older brother, former Cook County Commissioner Jerry 'The Iceman' Butler.
Growing up, Butler's parents shared a proverb that embodied how Mattie conducted her life:  Things that you do, do with your might.  Things that are half-done are never done right.  Throughout her life, Butler used her talents and influence to build relationships and networks.
This past May, Butler's family, friends and fellow residents, along with federal and local dignitaries, attended the ribbon-cutting ceremony for two newly renovated apartment buildings located in Woodlawn that were named the Mattie Butler Apartments in her honor.
At the ceremony, Venus Scott, Butler's daughter shared, "Today, we gather saluting the selfless service of one of this city's affordable housing heroines—my mother, Mattie Butler!'
Scott went on to beam, "This gentle, yet fierce female giant has promoted fairness in jobs, education, youth services and equity in housing with stunning success!"
On November 3, 2022, the gentle giant, Mattie Butler, made her transition.
In addition to her daughter, Venus Scott, Butler leaves to mourn her sons, William and Jerry Armstrong; her brother, Jerry 'The Iceman' Butler; several grandchildren, nieces, nephews, cousins and close friends.
Viewing was Friday, November 25th at Leak & Sons, 7838 S. Cottage Grove Avenue from 6-8pm. Funeral services were Saturday, November 26th beginning at 10:30am at Friendly Temple Church of God, 7745 S. State Street.