After finishing 46-36 in the Eastern Conference Central Division, the Chicago Bulls will look to bounce back next season with the 18th pick in Thursday's NBA Draft. The Bulls are hoping to draft an impact player with tremendous upside. And according to several Mock Drafts, the Bulls could be in the market for a versatile wing. Here are the top three players who might be available on the board:
1) Jeremy Sochan, Baylor, 6-9, 230 pounds. Sochan's bio states he was committed to playing college basketball for Baylor back in July 2020. During his college career he earned the Big 12 Sixth Man Award and was named to the Big 12 All-Freshman Team. His team would later get a number one seed in the 2022 NCAA Division I Men's Basketball Tournament, but lose in the second round. As a freshman, he averaged 9.2 points, 6.4 rebounds and 1.3 steals per game. In April of 2022, Sochan declared for the 2022 NBA draft, forgoing his remaining college eligibility.
2) Tari Eason, LSU, 6-7, 220 pounds. Eason with LSU posted a freshman season-high 20 points, 13 rebounds and three blocks in a 91–71 win over Tulane according to his bio. As a freshman at Cincinnati, he averaged 7.3 points, 5.9 rebounds, 1.3 blocks and 1.2 steals per game, earning American Athletic Conference All-Freshman Team honors. For his sophomore season, Eason transferred to LSU. He was named to the First Team All-SEC as well as SEC Sixth Man of the Year. Eason averaged 16.9 points, 6.6 rebounds and 1.9 steals per game. He declared for the 2022 NBA draft, on March 25, 2022 forgoing his remaining college eligibility.
3) E.J. Liddell, Ohio State, 6-6, 240 pounds. Raised in Belleville, Illinois, Liddell may like playing for his hometown state's famous franchise, the Chicago Bulls. Liddell graduated from Belleville High School-West in 2018 and averaged 20.8 points and 8.2 rebounds per game as a junior. Liddell also won the 2018 Illinois Mr. Basketball award and shared the 2018 St. Louis Post Dispatch Player of the Year with Courtney Ramey, his bio states. Liddell has also won an Illinois 4A class state championship and as a senior averaged 20.2 points per game, 9.3 rebounds per game and 3.8 blocks per game.
In back to back seasons, he won Illinois Mr. Basketball, the St. Louis Post Dispatch Player of the Year, and the Illinois 4A class state championship. If any of these three players are available in Thursday's draft, let's hope the Bulls make the right pick again. Last year they were able to draft guard Ayo Dosunmu with the 38th pick in the second round of the 2021 NBA Draft. The team discovered he was a gem after he rewarded the franchise with an ALL-NBA Rookie 2nd Team selection and contributed to the team's first playoff appearance in five years.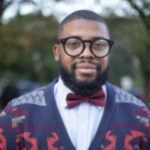 Joseph Phillips is the Sports Editor for the Chicago Crusader Newspaper. He is a Chicago native, who has been a sports writer for over 17 years. He also hosts the SC Media News and Sports Network Q&A radio show on WHPK 88.5 FM Chicago.