After finishing the 2021-22 IHSA football season with a 3-7 record, Coach Michael Ceruolo has been on a mission to help build the Westinghouse College Prep football program through grassroots efforts and with limited resources.
Ceruolo, a volunteer coach for several years at Westinghouse, said his goal is to raise $2,500 dollars in funds and help as many players as possible gain scholarship opportunities under his tenure.
"As a lot of my friends and family already know, I have been a volunteer coach at Westinghouse College Prep for a number of years now," said Ceruolo via a statement. "My whole goal when I started at Westinghouse was to help as many kids get college scholarships as I could."
Ceruolo said since he arrived at the high school, he's seen countless players achieve their dreams and continue playing as scholarship players at the next level. Ceruolo also said the opportunity for players to attend college for a reduced cost or even at no cost has been a life-changing experience for these players.
"The main way that players get recruited is through film," said Ceruolo. "They compile their best plays of the season and send the film to college coaches who review it."
Ceruolo said over the past few seasons, one of the main issues for coaches and players at the school has been a lack of resources. He shared that the group also struggled to obtain funding to adequately film for recruiting.
"We're frequently recording off of ipads or even phones in order for our players to have a chance at getting offers," Ceruolo said.

"I'm asking today for any donations for our program to help us buy equipment to film our players right. Any amount helps!"
Ceruolo has created a GoFundMe page to help raise money and provide athletes with quality film reels which can be used for recruitment and scholarship opportunities.
Ceruolo also mentioned that within his first hour of fundraising, nearly half his goal has been reached. He has raised $2,625 dollars as of June 5, 2022.
For more information on the GoFundMe page for the Westinghouse Football team, visit: https://gf.me/v/c/tjq/please-donate-to-help-westinghouse-football.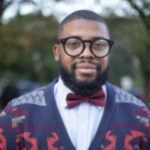 Joseph Phillips is the Sports Editor for the Chicago Crusader Newspaper. He is a Chicago native, who has been a sports writer for over 17 years. He also hosts the SC Media News and Sports Network Q&A radio show on WHPK 88.5 FM Chicago.