By Clarence Waldron – Guest Writer
Singer Verne  "VA" Allison, the son of The Dells Verne Allison Sr.,  celebrates the legendary group with his new single, "Missin' You."
During an interview with the Black Muse podcast, he explained how he developed the tune.  "The song is a reimagining of a song The Dells did about 20 years ago, called "Baby Come Back" that I wrote and produced," explains "VA" Allison.
He continues, "So we decided let's try to redo it and put a new twist on it. So I rewrote the verses and I kept everything that The Dells did in the song, so it sounds as if we're all singing together on the record. And then we have Marvin Junior Jr. (the son of the late Dells, Marvin Junior) on the record too."
He adds, "We just tried to make it a family affair and tried to create some magic and some energy from the family."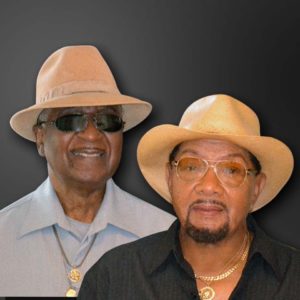 Verne Allison Sr. and Michael "Mickey" McGill are the last two surviving Dells.  The other members were Marvin Junior, Chuck Barksdale and Johnny Carter. The group was formed in high school in Harvey, IL.
The Dells' hits include "Oh, What A Night," "Stay In My Corner." "The Love We Had (Stays On My Mind)," "Open Up My Heart" and "Give Your Baby A Standing Ovation."  Along the way, they recorded the acclaimed album "The Dells Sing Dionne Warwick's Greatest Hits."
Robert Townsend's classic film, "The Five Heartbeats," was loosely based on their lives and careers and yielded another Dells  hit, "A Heart Is A House For Love."
In 2004, they were inducted into the Rock and Roll Hall of Fame. They retired in 2012 after 60 years in the music industry.
Allison Sr. is naturally proud of his son's record.
"I think it's a hit myself. When I listened to it, I said, 'Wow,' you're bringing something back new, which should get both crowds, young and old."
McGill notes, "When they played it for me, I told my daughter, 'This is a hit.' So now it's time to put some machinery behind them. What they need, what everybody needs, is you got to put some money behind them. You've got to have some money put behind you so that you can do all the things in the right places."
Marvin Junior Jr. notes, "I think The Dells are essential to the music business. Our music is real music.  It's life changing."
McGill and Allison Sr. reflect on being the last two surviving members of The Dells.
McGill says, "I miss Marvin, Chuck and Johnny. I got one friend and that's this man sitting here. He's my buddy. I wish that we could do it all over again."
Allison Sr. says, "We feel blessed. I've  got a picture of all the guys. I wake up every morning and say, 'Thank you.' Those are the ones I loved. I made my life with all of them. I wouldn't trade it for the world."
"Missin' You" is available in July wherever you stream music.
To hear more of the lively conversation, go to the Black Muse channel on YouTube. Don't forget to like, leave a comment and subscribe.