Photo caption: 2023 NBA All-Star Game Logo (credit: NBA.com Twitter Page)
To close out the 2023 NBA All-Star Weekend, Team Giannis upset Team LeBron 184-175 in Salt Lake, Utah. Team Giannis was led by Boston Celtics forward Jason Tatum, who scored a NBA record 55 points in the victory.
In addition to the big game by Tatum, Team Giannis raised a grand total of $550,000 dollars for the organization Raise The Future in the victory and Team LeBron raised a grand total of $200,000 dollars for the organization Big Brothers Big Sisters of Utah during the contest. In total, the game raised more than $750,000 dollars for the Utah community. According to the NBA, the first ever NBA All-Star Draft took place right before the game. The two team captains, Giannis and LeBron, drafted the team rosters from the pool of players voted as starters and reserves in each conference. The process began with the captains, who were determined by the All-Star voting results. The leader for each conference, LeBron James (West) and Giannis Antetokounmpo (East) got to select his squad and have the team named after him. Both superstar captains came prepared, James with a sheet of paper with notes, Antetokounmpo with an entire notebook he proudly displayed to the Salt Lake City crowd. Team LeBron held the first pick of the starters since James was the overall leading vote-getter in the All-Star balloting process. Conversely, Antetokounmpo was granted the first pick of the reserves. Antetokounmpo's teammate Damian Lillard closed out the game with a huge three-pointer on Sunday. Given Team Giannis the victory and All-Star game bragging rights. Final Score: Team Giannis 184, Team LeBron 175. Below are the award winners of the 2023 All-Star Weekend in Salt Lake City, Utah: Boston Celtics forward Jason Tatum took home the games MVP Trophy, Mac McClung won the AT&T Slam Dunk Contest taking home the newly revealed Julius "Dr. J" Erving, Damian Lillard won the Starry 3-Point Contest and Team Utah Jazz, Jordan Clarkson, Walker Kessler and Collin Sexton won the Kia Skills Challenge. Chicago All-Star Representative: D. DeRozan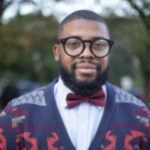 Joseph Phillips is the Sports Editor for the Chicago Crusader Newspaper. He is a Chicago native, who has been a sports writer for over 17 years. He also hosts the SC Media News and Sports Network Q&A radio show on WHPK 88.5 FM Chicago.