Mayor Lori Lightfoot scored another victory last week after 10 Black aldermen sided with her and rejected an ordinance that would have raised the threshold to 10 miles per hour (mph) for red light speed cameras.
Without the help of the Black Caucus majority, the ordinance would have passed forcing Lightfoot to veto the measure, something that has not been done in the City Council in 15 years. While the city says the ordinance is needed for public safety, many residents and data from several studies show the ordinance is more about generating money for the city than protecting the public.
Four of Chicago's top money generating speed cameras are on the South Side and the highest one is in Washington Park between the DuSable Black Museum and Education Center and the Washington Park fieldhouse. Since 2021, the camera has clocked over $3 million in fines at a spot where there is no traffic light or pedestrian crosswalk.
The failed ordinance likely would have protected residents in Black neighborhoods from paying fines that have generated over $1 million in revenue since an ordinance that passed in March 2021 fines drivers going six mph over the speed limit. Most of those fines come from Black neighborhoods, and they will continue to be hit the hardest thanks to the 10 Black aldermen who sided with Mayor Lightfoot.
The battle may be over for Lightfoot, but it may have begun for the 10 Black aldermen, whose residents struggle paying for fines from speed tickets that balloon with late fees. Those fines and the mayor's controversial ordinance may haunt her and aldermen during Chicago's municipal elections in February, when they are up for re-election.
It's a problem that plagued Chicago's poor residents for years before Lightfoot took office in 2019. Two years later, Lightfoot lowered the threshold for drivers going over the speed limit by six miles per hour. Lightfoot said the move was needed after many fatalities on Chicago's roads. At the City Council meeting on July 20, the names of victims killed by cars were read before the proposed ordinance was defeated by a 26 to 18 vote.
Siding with Lightfoot in rejecting Beale's ordinance were Alderman Greg Mitchell (7th), Aldermen Michelle Harris (8th), Stephanie Coleman (16th), David Moore (17th), Derrick Curtis (18th), Monique Scott (24th), Walter Burnett (27th), Jason Ervin (28th), Chris Taliaferro (29th) and Emma Mitts (37th).
Three Black aldermen did not vote. They include Aldermen Jeanette Taylor (20th) and Carrie Austin (34th), both of whom were absent. The roll call count showed Alderman Howard Brookins (21st) was at the City Council meeting but he did not vote.
City Council records show the last Council meeting Taylor attended was May 25. Taylor's Ward includes the city's highest producing speed camera, which issued over $3 million in ticket fines last year.
The ordinance had a greater chance of being approved in June when Alderman Beale said he had the required 26 votes to pass. But several Black aldermen including Aldermen Michelle Harris (8th), Walter Burnett (27th) and Derrick Curtis (18th) who are Lightfoot's key allies, used a procedural move to delay the vote to a later date. That time may have allowed Lightfoot to seek the votes from aldermen who supported the ordinance. Today, Lightfoot's ordinance remains intact.
Lightfoot also cited a 2021 study the city commissioned with the University of Illinois-Chicago, which showed a 12-percent reduction in injury-causing crashes over a three-year period where the cameras are located. But some speed cameras are located in areas where there are few pedestrians and few accidents.
Under the current ordinance, drivers going 6-10 mph over the speed limit are fined $35. Drivers going 11 mph over the speed limit would be fined $100.
Late penalties can turn a $35 citation into an $85 fine. A $100 speeding violation can cost residents $244 if their payment is late.
According to the Illinois Policy Institute, Chicago reported more traffic deaths in the first six months of 2022 than in any year since 2017, despite speed cameras issuing over 1 million tickets. Two-thirds of the fines were for speeding 6-10 mph.
The Illinois Policy Institute investigation found 72 Chicagoans died in traffic collisions before July, 11 more than the previous record level reported for the first six months of 2021 when the speed camera ordinance was in effect. Fines from the 6 to10 mph violation itself brought in $59 million last year, according to the Institute.
The Illinois Policy Institute also said the city has already collected $36 million in fines as of June this year, nearly as much ticket revenue as the city collected in all 12 months of 2020 before Lightfoot's speed limit ordinance went into effect. According to the Institute, so far in 2022, Chicago speed cameras have issued a ticket every 14 seconds, generating over $207,000 a day in revenue for the city.
An ABC7 Chicago investigation in 2021 showed that the speed light camera at 536 E. Morgan Drive in Washington Park near the fieldhouse issued 22,751 tickets from March to June to drivers 6 to 10 miles over the speed limit, and 5,700 tickets for going 11 or more miles over the speed limit. In 2021, that camera generated $3.66 million in fines, more than any camera in Chicago according to the Illinois Policy Institute.
The Institute in an April report said the city's 27 top cameras issued $1 million or more in fines last year, 10 of those topped $2 million each. The camera in Washington Park and another camera at 445 W. 127th St. near Blue Island each wrote over $3 million in tickets.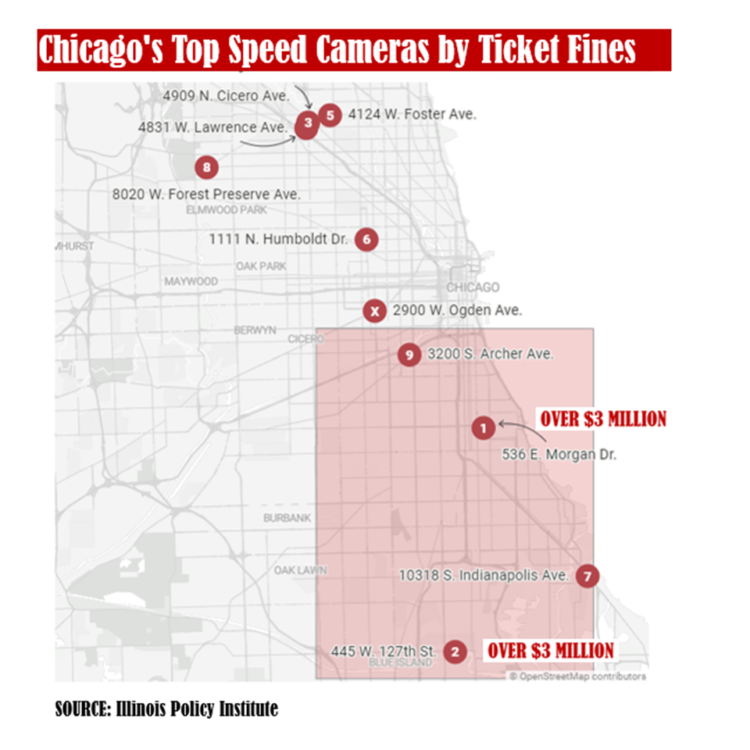 The cameras in 2021 issued 2,817,554 tickets; one every 11 seconds, filling city coffers at the rate of $250,000 a day, according to the Illinois Policy Institute.
The ABC7 investigation revealed that of seven-speed light cameras that produced the highest number of tickets in Chicago, the one in Washington Park produced the most tickets. There's no pedestrian crosswalk or traffic light near the camera. It is located in Alderman Jeanette Taylor's 20th Ward.
In January, ProPublica published its analysis of millions of citations and found that most Black and Hispanic zip codes received tickets at around twice the rate of those in white areas between 2015 and 2019.
According to the report, Chicago's Black neighborhoods have been hit with more than half a billion dollars in penalties over the last 15 years, contributing to thousands of vehicle impoundments, driver's license suspensions and bankruptcies.
Last week, a Crusader journalist found eight booted cars in just one block in Bronzeville.
And regarding that UIC study Lightfoot commissioned to justify the speed camera fines, the ProPublica report said when the researchers from that study uncovered data showing that cameras sent the most tickets to predominantly Black zip codes, the city then hired them to study the issue further.
According to the Illinois Policy Institute, speed cameras hurt low-income Chicago drivers more than their affluent counterparts. Nearly half of tickets received by low-income residents incur late fees and penalties before they are paid, compared to just 17 percent for upper-income drivers.
Mayor Lightfoot said the ordinance is about preventing fatalities on Chicago roads. But according to the Illinois Policy Institute, twenty more people died in crashes on Chicago's streets in 2021 than in 2020, for a total of 167 deaths.
The organization said there were only 108 fatal crashes in 2019. But how many fatalities were at or near 536 E. Morgan where the city's highest volume speed light camera is located? The city hasn't released any figures for that location.