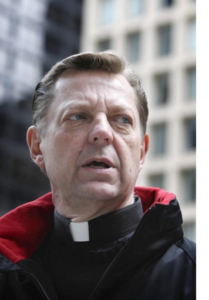 For 15 years, Father Michael Pfleger has been feeding the homeless, veterans, and women in shelters, distributing toys, coats, socks, and boots. This past Christmas he provided 1,100 meals prepared by Black caterers. He provided gifts and food to nine shelters and two veterans' homes.
Whenever an opportunity presents itself Pfleger promotes Black businesses; Christmas was yet another opportunity to do so, which is why he chose four African American caterers to cook dinners that were delivered by volunteer drivers on the south side of Chicago.
"This will be a great day to support and show love to people that may feel forgotten, and Black owned businesses. This is the meaning of Christmas," said Pfleger.
Christmas at Saint Sabina was a day of service downstairs in the McMahon Hall while Father Thulani Magwaza was upstairs preaching mass in the sanctuary.
The scene downstairs was like that of the mythical North Pole where Pfleger was busy orchestrating a massive, diverse volunteer program of people packing large black bags with toys and other Christmas gifts. It was truly a Saint Sabina family affair.
Pfleger also had volunteers to deliver the packaged meals when they arrived. Drivers emerged from Saint Sabina carrying huge bags of meals to their vehicles.
He chose Pam Bosley, director of the ARK of Saint Sabina's Violence Prevention Department to deliver the gift cards donated by two of his good friends to a women's shelter on the South Side.
The $100 Target gift cards were donated by George W. Lucas, Jr. and his wife, Melody Hobson, of the Hobson/Lucas Family Foundation.
Bosley, who lost her son, Terrell Bosley, on April 4, 2006, to gun violence, is also co-founder of Purpose Over Pain, an organization that helps parents whose children were murdered.
She was one of many volunteers on Christmas Day busy stuffing bags of toys for children. She and Chicago Fire Commissioner Annette Nance Holt were assigned to the toy division of the Christmas giveaway.
"I felt good," said Bosley. "It's always good to give. It felt good for me and my son, Tre, to drive and drop off the gift cards to a women's shelter out south."
They helped pack bags of toys for children which were delivered to various places by volunteer drivers. "It was all about helping the young people," Bosley said.
But, as he has done in previous years, Pfleger was also a blessing to the Black restauranteurs he chose to cook and deliver the packaged meals to Saint Sabina. Drivers waited to take them to the homes of veterans, mothers in domestic shelters and other places.
Sheila Morrison, the owner of the Morrison's Soul Food Restaurant, 8052 S. Racine, who was one of four Black restauranteurs chosen by Pfleger, thanked him for selecting her to cook the meals.
"I was so truly honored. It was a proud moment for me," Morrison said.

"Father Pfleger kept the business in the community and that is important. He gave us a chance to be a part of something that was very amazing. He kept the money in the community. It was a great choice."
When asked what she cooked, Morrison said, "I cooked baked chicken, dressing, candied yams and string beans, cherry and peach cobblers and a cake."
Bosley joined Pfleger, Nance-Holt and Bosley's son Tre in helping pack bags of toys for Saint Sabina's 15th year of giving back to the community. The four Black caterers cooked 1,100 meals.