With 12 years of coaching experience under his belt, coach Ernesto "Tito" Almaraz (also known as Coach Tito), is currently the head girls basketball coach of the Kennedy High School Crusaders.
Almaraz just wrapped up his second season with the Crusaders and is the AAU coach for the NXT1 Girls Basketball program in Chicago.
"I have been coaching adolescent basketball for 12 years ranging from AAU travel basketball to high school IHSA," said Almaraz. "I started my high school coaching career at Cristo Rey coaching the boy's varsity program and moved to girls basketball at Morton High School."
In the past, Almaraz said he's coached for several travel teams over the years and would finally land his dream job at his home school, Kennedy High School.
Almaraz also stated he has opted to continue coaching girl's basketball for several reasons. First, he believes the women's game is much cleaner in play than boy's basketball today. Second, Almaraz said the girl's game requires more discipline and fundamentally sound work for most players. And last, Almaraz said he has personally trained several athletes of his own and is passionate about teaching and coaching the sport.
His passion led him to launch the NXT1 Basketball program.
Almaraz said his mission for NXT1 was to create a nonprofit organization/program that introduces an opportunity for young female students/athletes within the community to engage in a program that will teach them the fundamentals of basketball.
"This is a local initiative that is directly focused on developing a personal voice, self-confidence through basketball," said Almaraz. "By holding them accountable in practice, providing strong leadership, having an all-female coaching staff that the kids can see themselves in, I feel we can assist in creating and molding these young adolescents into becoming great productive leaders in our community."
The community-based program helps children face challenges in life while developing leadership skills and teaching them the game of basketball. In addition to basketball training, the group also offers school assistance through Kennedy High School via student tutors.
"We maintain the importance of education and school, providing information on the Kennedy IB Program and opportunities to meet staff members," Almaraz said.
Almaraz's vision is to create a basketball program that will become a staple in the community. His goal is to see more players grow a passion for the sport, meet new friends, grow together (as a team) and to develop as a person.
"There are so many values in team sports, such as discipline, teamwork, leadership, and socializing," said Almaraz. "Creating a program that is beneficial for our kids in "my backyard" is a dream come true."
NXT1 is currently partnered with Kennedy High School and Chicago Park District Vittum Park. The group is also sponsored by Mr. D's Waterproofing and Construction and Home Run Inn Pizza.
Almaraz also mentioned that Kennedy High School has provided space for the organization to host over 50 girls at practices and meetings.
Additional quotes from coaches in the community that help out with the program:
Coach Lupe: "In addition to helping these young girls improve their basketball skills, one of my primary reasons for becoming their coach was to help build self-esteem and develop confidence within themselves. Oftentimes, as young girls we can be shy, reserved, and timid. Basketball helped me gain confidence and a specific type of leadership that I wouldn't have developed otherwise. Through fundamentals and learning the basics of basketball, these girls are learning patience, hard work, and commitment to the sport. All which they can apply to life outside of the court as well."
Coach Aslah: "As a Kennedy high school Alumni, I was given the opportunity to coach and help grow the sports community tremendously. I'm Aslah Ahmad, first hijabi sports player at Kennedy High School. Playing sports throughout my life has helped me become the person I am today. Basketball was a way for me to escape from issues around me. I want our youth in the community to know that sports can always be a safe place. Throughout the years I've played basketball, I struggled finding my place in sports because I felt as if I had no one believing in me. Coaching in our program, NXT1, will give girls in our community the chance to play basketball, but also learn the fundamentals of the sport and grow as an individual. I want our community to know that we are working with the youth one on one to help achieve the goals they want. I personally sit and speak with the girls to help them get through struggles throughout the game, but also individual lives. Each of our coaches believe in these girls because we all want to see them grow in basketball. As a hijabi playing sports, it was different, but I knew I could make a difference. I want to help make a positive difference in our girls, but also teach them we're all unique in our own ways."
Coach Dahl: "I decided to offer my time to the NXT1 organization once I stopped into the gym to drop off something to Coach Tito and had the pleasure of seeing the girls train. I stayed to watch for a few minutes and I felt the itch to help out. I have been out of coaching for a few years, and watching the girls struggle but continuing to try to pick up what the coaches were trying to teach them really motivated me to get involved. Middle School girls are at significant risk for self esteem issues. This program directly addresses the pressures these girls face through social media and society in general. The girls are taught to believe in themselves, their teammates, and their ability to overcome any obstacle. We talk about being an athlete, setting goals, accepting failure, and striving to get better. The opportunity to impact the lives of these girls through a game that I love is absolutely invaluable. In the short time I have been involved with the program I have seen confidence grow, athleticism grow, and friendships grow. The middle school girls are learning basketball skills, but more importantly, they are learning life skills. Being a part of something, a part of a team, is such an important but often overlooked part of development…especially for girls. When you consider the fact that this organization came to be immediately after most of the world is reemerging after a global pandemic, the stakes are even higher, and the impact is even greater. So many families are deeply grateful for this opportunity when you consider the low cost and the excellent training. It is my sincere hope that this non-profit organization continues to be available for the young women of the Midway area for years to come. It takes a lot of hard work and effort…but these ladies are worth it"
Coach Lucas: "Growing up, basketball had such a huge impact on my life and it's helped shape me into the person that I am today. I grew up and played basketball in the same community as the next generation that I'm coaching. I was fortunate enough to have an amazing coach in elementary school who taught me so much on and off the court. The friends and coaches I've met through the sport are now ones I consider family, so I hope we can do the same for these young girls. All the young athletes in our program have so much potential, the only thing they lack is the chance to play, because not every school in the area offers or can offer a girls' basketball program. Within the first three weeks of the NXT1 program, I noticed the girls' skill levels going up immensely, but not only that, you could see their confidence skyrocket. I love getting to know these girls and being able to see their joy when learning new skills and playing the game."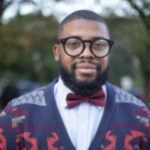 Joseph Phillips is the Sports Editor for the Chicago Crusader Newspaper. He is a Chicago native, who has been a sports writer for over 17 years. He also hosts the SC Media News and Sports Network Q&A radio show on WHPK 88.5 FM Chicago.