In June the National Football League partnered with the International Federation of American Football (IFAF) to celebrate Olympic Day with a Flag Football showcase in Africa.
Olympic Day has been held annually on June 23 since 1948. According to the NFL, the event took place in Accra, Ghana, as children ages 12 to 14 from 10 local schools in the area joined NFL stars and legends and the Ghana American Football Federation to play flag football and celebrate Olympic Day by wearing the colors of the Olympic rings and highlighting the #OlympicDay and #MoveForPeace messages. The young participants also had lessons in teamwork and sportsmanship. The NFL and IFAF joined sports organizations globally to promote the theme 'Move For Peace' – aligned to the International Olympic Committee's overarching message of 'Together For A Better World'.
The Flag Football Day was one of a range of sporting activities, including a local talent identification camp and a fan event, during NFL Africa: The Touchdown, a week of festivities designed to engage the growing American Football fan base and attract new players and fans across the nation and wider region.
In particular, IFAF and the NFL are promoting flag football – the quicker, more inclusive, non-contact discipline of American football to drive forward the sport's international expansion plans and accelerate global growth. With more than 100 players of African descent [born in Africa or first generation born in the U.S.] playing in the NFL, this week's events highlighted the contributions of its African players and introduced the sport to the next generation of fans.
About IFAF
The International Federation of American Football (IFAF) is the international governing body for the sport of American football and is responsible for all regulatory, competition, performance and development aspects of the game on a global level. Provisionally recognized by the International Olympic Committee, IFAF is a member of GAISF and a signatory to the WADA Code. IFAF has 72 member nations across five continents.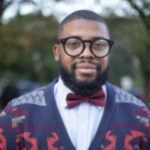 Joseph Phillips is the Sports Editor for the Chicago Crusader Newspaper. He is a Chicago native, who has been a sports writer for over 17 years. He also hosts the SC Media News and Sports Network Q&A radio show on WHPK 88.5 FM Chicago.