Mettle Sports hosted its inaugural 2022 Chicago Street Soccer Tour, kicking off the tour on Tuesday, June 14, at Bronzeville's Ellis Park. The next stop is McKinley Park in Brighton Park.
"We are thrilled to launch this initiative throughout Chicago as each community will feel the unifying power of the pitch," said Neal Levin, Mettle Sports CEO.

"The Tour will showcase how street soccer pitches can turn deserted urban spaces and parklands into blossoming epicenters of fun and play for everyone. It's "The Beautiful Game" for a reason…it belongs to the people."
According to Mettle Sports, street soccer is defined by local, unstructured, communal pick-up play, on any readily available surface.
Rules are only created by those who play. This small-sided styled play is lively and constant, forcing quicker decision making and impromptu creativity. The game rarely stops.
Around the world, street soccer pitches, and the small-sided play that occurs within, act to serve as safe havens across the city. At a time when in-person social companionship has been limited, and digital technology is at a nauseating consumption rate, the Chicago Street Soccer Tour will be the interpersonal catalyst needed by all Chicagoans to collectively rally within and across neighborhoods.
This summer, four "street soccer" pitches will traverse Chicago neighborhoods, culminating in the 2022 Chicago Street Soccer Cup, to be held at Fleet Fields @Lincoln Yards in Chicago this Fall.
Each tour stop will be on average two weeks, with select nights identified for a local festival with participation from local CBOs, aldermanic offices and programmers, as well as an opportunity for local musicians to come play for their communities.
Soccer is considered the most popular sport and is watched and played by more than a billion people worldwide. It is certainly underrepresented in the U.S, but Mettle Sports wants to change all that.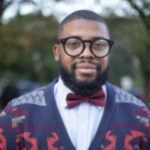 Joseph Phillips is the Sports Editor for the Chicago Crusader Newspaper. He is a Chicago native, who has been a sports writer for over 17 years. He also hosts the SC Media News and Sports Network Q&A radio show on WHPK 88.5 FM Chicago.