Children with disabilities experienced WNBA All-Star Weekend in Chicago
The Matthew Foundation, in collaboration with NIKE hosted their 2022 SuperFest-Basketball event Saturday, July 9, at the Rauner Family YMCA in Chicago.
The group welcomed individuals of all ages and abilities to the inaugural event. Their goal was to provide a great basketball experience for children with disabilities during the WNBA All Star weekend.
Athletes learned basketball instruction from DePaul Basketball Head Coach, Doug Bruno, members of the DePaul, UIC, and Loyola women's basketball team, and ESPN's Debbie Antonelli at the clinic.
Coach Antonelli shared her thoughts and emotions on Saturday's event with the Crusader.
"Well, I'm a Special Olympic parent and advocate [myself]," said Antonelli in an interview with the Crusader. "So every time I get a chance to combine my two passions: one is basketball and two, getting a chance to work with people that have special abilities, I'm all in and that is why I'm exactly here today."
For Simeon High School stand-out and DePaul's women basketball conference Freshman of the Year Aneesah Morrow, the event was more than just basketball.
"Today's event meant a lot to me, working with the kids," said Morrow. "Being able to talk to them and learn about other people. Socializing with them as well. Although I know this event is surrounded by basketball, [but] this is more than [just] basketball."
In addition to Antonelli and Morrow's thoughts, Coach Bruno also stated that the event was designed for "Our college women to give back to the community."
Bruno stated it was great for the college players from DePaul, UIC and Loyola to learn from the Special Olympians the importance of the "big picture of basketball," that is "To serve, serve, and serve," and "Give up yourself."
Saturday's effort was spearheaded by the Matthew Foundation; the group is a private operating charitable foundation that strives to make a meaningful impact for persons with intellectual and developmental disabilities, one program at a time.
According to the Foundation, SuperFest-Basketball is an extension of SuperFest-Football/Cheer. Every year since 2016, NFL teams, media outlets, businesses, disability agencies, hospitals, and community partners have rallied around SuperFest-Football/Cheer because of its importance to the community.
The sponsors and supporters of the event included Nike, Rauner Family YMCA, Lurie Children's Hospital, KEEN Chicago, Ascension, and National Down Syndrome Society.
The Matthew Foundation closely collaborates with regional disability advocacy organizations to ensure it meets the needs of the community. Learn more at http://www.thematthewfoundation.org/super-fest.html.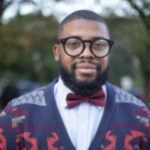 Joseph Phillips is the Sports Editor for the Chicago Crusader Newspaper. He is a Chicago native, who has been a sports writer for over 17 years. He also hosts the SC Media News and Sports Network Q&A radio show on WHPK 88.5 FM Chicago.