The Kenwood Broncos upset the No. 1 ranked Simeon Wolverines 46-43, on Tuesday, January 10, on the road.
The Broncos were led by guard Dai Dai Ames, who scored a team-high 20 points in the victory. The win by the Broncos was the first over Simeon in school history.
The last upset by the Broncos was a 72-66 victory over a highly ranked Joliet West Tigers team back in December. That game featured the 3rd ranked Broncos facing off against the 2nd ranked Tigers in a city versus suburban High School Top 25 showdown.
The Broncos received a courageous performance by small forward Calvin Robbins, who scored 13 of his game-high 21 points in the third quarter in the victory.
The big game by Robbins at the time helped the Broncos earn an undefeated record at 4-0. Since then, the Broncos are 15-2 overall, 7-0 at home.
Final score: Kenwood 46, Simeon 43
Chicago Crusader Newspaper Player of The Game:
Dai Dai Ames, Kenwood, scored a team-high 20 points in the victory. According to Max Preps, Ames is averaging 23 points per game this season for the Broncos and led the team to an undefeated record in conference play.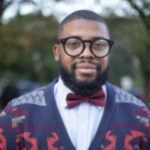 Joseph Phillips is the Sports Editor for the Chicago Crusader Newspaper. He is a Chicago native, who has been a sports writer for over 17 years. He also hosts the SC Media News and Sports Network Q&A radio show on WHPK 88.5 FM Chicago.