In the 2022 WNBA AT&T All-Star Game, Team Wilson defeated Team Stewart 134-112 on Sunday, July 10, at Wintrust Arena in Chicago.
Team Wilson was led by the inspired play of guard Kelsey Plum, who finished with a game-high 30 points and was awarded the 2022 WNBA All-Star Game MVP.
On Sunday, Plum tied the WNBA All-Star game scoring record with her 30 point performance and is looking to bounce back after struggling in her first three of five years of her WNBA career.
"Yeah, something like this, I used to validate how good I was as a player and that's one of the reasons I struggled in the past," said Plum via CBS Sports.
"Like you have highs and lows based on other people's opinions and accomplishments or benchmarks, and so I think when I stopped identifying with that, I was able to be free."
"Like today was great, don't get me wrong, MVP is great, shooting is great, winning is great but at the end of the day, I don't feel any type of better of a person or any higher of a value of a person than I did when I entered the gym than when I'm leaving it. So that is what I'm most proud of."
Prior to Plum's recent success in the WNBA, she was a NCAA standout at the University of Washington. According to her bio, Plum became the first Pac-12 player, and the 12th NCAA Division I women's player to reach 3,000 career points.
On February 25, 2017, in her school's final regular season game, Plum scored a Pac-12 record 57 points in an 84–77 win over Utah. Her record-setting output gave her the NCAA Division I women's basketball career scoring record in college.
Plum led her Washington Huskies to a 29–6 record during her senior season, which boasted a record of 15–3 in the Pac-12.
Her record second performance in Sunday's All-Star game gave Plum the confidence she needed as a player. She hopes to one day return to her college days as a prolific scorer. Currently, Plum is averaging 19 points per game in the WNBA.
All-Star Weekend in Chicago:
During All-Star Weekend in Chicago, Sabrina Ionescu and Zoe Brooks of the Elite Youth Basketball League won the 2022 Skills Challenge.
The WNBA also implemented the 4-pointer to use solely for the 2022 AT&T WNBA All-Star Game. The special rule was implemented for the purpose of providing added excitement and an enhanced pace of play during the game. Here was the rule:
4-Point Shot
Four circles – two at each end of the court – were placed above the current three-point line (22 feet, 1.75 inches from the center of the act) at a distance of 28-feet from the act. Each circle was designated as the 4-point area.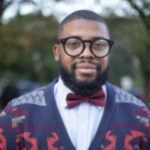 Joseph Phillips is the Sports Editor for the Chicago Crusader Newspaper. He is a Chicago native, who has been a sports writer for over 17 years. He also hosts the SC Media News and Sports Network Q&A radio show on WHPK 88.5 FM Chicago.