In an effort to create safe spaces for those who love the game of basketball, the Local Initiatives Support Corporation (LISC) will launch their 16th annual Hoops in the Hood 2022 season in July.
"Hoops in the Hood is about much more than basketball, it provides a fun and safe outlet for Chicago's youth and enables athletes, parents and community members to spend time together outside in their neighborhoods.
"Week by week, block by block, Hoops in the Hood has replaced neighborhood crime hotspots with safety zones," said Executive Director of LISC Chicago, Meghan Harte.
"LISC Chicago is proud to support this transformative initiative with the support of State Farm and Walmart."
Sponsored by State Farm and Walmart, Hoops in the Hood is a sports-based community summer safety initiative that creates safe spaces for youth in 17 Chicago communities to interact and build positive relationships through basketball.
For 16 years, community organizations across Chicago have united through basketball to empower residents to reclaim their streets and promote peace.
Each year, hundreds of young athletes ages 8-19 play in the summer-long leagues that blend street basketball with other recreational activities designed to develop youth leadership skills and teamwork while fostering civic engagement and community building.
Designed to provide safe outdoor activities for youth in communities affected by gangs and violence, the violence-prevention program reclaims public spaces across the city. More than 30,000 Chicago youth have participated in the program's 16 years of operation.
This summer also marks the launch of the first-ever all-girls' league program to be a part of Hoops in the Hood. Hosted by The ARK of St. Sabina, the all-girls' league tipped off July 9 and will run through August 20.
With its message of community building and promoting neighborhood safety, on Saturday, July 30, an all-girls team will play officers from the Chicago Police Department's 6th District at 1 p.m. outside St. Sabina on Halsted.
More than 30 all-girls teams are participating from across Chicago in the elementary and high school league. The league is focused on basketball competition, leadership development and engagement with law enforcement.
"When youth have safe spaces to build relationships and thrive, the entire community benefits," said Monique Carswell, Director, Walmart.org Center for Racial Equity.
"In support of our mission to build more equitable communities, we are proud to support LISC Chicago's effort to provide these safe spaces for youth throughout the summer with the exciting addition of an all-girls' league."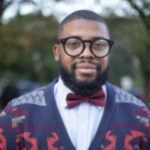 Joseph Phillips is the Sports Editor for the Chicago Crusader Newspaper. He is a Chicago native, who has been a sports writer for over 17 years. He also hosts the SC Media News and Sports Network Q&A radio show on WHPK 88.5 FM Chicago.