In the spirit of our 28th Annual Black Harvest Film Festival (coming November 4 – 27), we're thrilled to present this lovely pair of films, opening exclusively at the Film Center this Friday, August 19.
🌈 ALMA'S RAINBOW. Presented by filmmaker Julia Dash, this gorgeous 4K restoration of Ayoka Chenzira's 1994 coming-of-age comedy-drama explores the life of Brooklyn teen Rainbow Gold (Victoria Gabrielle Platt) as she enters womanhood and navigates standards of beauty, self-image, and the rights women have over their bodies.
When Alma's free-spirited sister Ruby (Mizan Kirby) returns from Paris after a ten-year absence, the sisters clash over what constitutes the "proper" direction for Rainbow's life. ALMA'S RAINBOW highlights a multi-layered Black women's world where the characters live, love, and wrestle with what it means to exert and exercise their agency. (Kino Lorber).
👑 QUEEN OF GLORY. Winner of the Tribeca Film Festival Best New Narrative Director Award for director-star Nana Mensah, QUEEN OF GLORY follows brainy scientist Sarah, a doctoral student at Columbia University, as she's about to follow her very married boyfriend to Ohio, when her mother dies suddenly, leaving Sarah as the owner of a small but beloved Christian bookstore in the Bronx.
Tasked with arranging her mother's funeral according to her family's traditional expectations, Sarah must simultaneously navigate her plans to relocate as well as the unexpected return of her estranged father, all while grappling with the bookstore. Aided by an only-in-New York ensemble of Eastern European neighbors, opinionated aunties, and a no-nonsense ex-con employee, Sarah must face her new responsibilities while figuring out how to remain true to herself.
Winner of the Tribeca Film Festival Best New Narrative Director Award for director-star Mensah, QUEEN OF GLORY is a "tightly-conceived, witty and compassionate love letter to the Bronx" (The Hollywood Reporter) that's at once a view into a tight-knit community, and an intensely relatable drama-comedy for anyone with a family. (Film Movement).
🌟 Also, currently playing this week only is Chicagoland filmmaker Kevin Shaw's acclaimed documentary LET THE LITTLE LIGHT SHINE, which follows Chicago parents, students, and educators as they fight for the survival of their beloved, top-ranked and majority Black elementary school after Mayor Rahm Emanuel's administration decides to shutter it to accommodate an influx of upscale residents in the neighborhood.
Chicago 2017: After closing down dozens of public schools, Mayor Rahm Emanuel's administration sets out to shutter yet another, the top-ranked National Teachers Academy in the South Loop. But mother-professor-activist Elisabeth Greer and members of her community are fighting back. Filmmaker Kevin Shaw (a director on Steve James' America to Me) was on the ground for the entire riveting David vs. Goliath saga. As the film tracks this passionate group of parents and students rising up for their beloved elementary school, it also reveals the bracing realities of systemic racism and gentrification.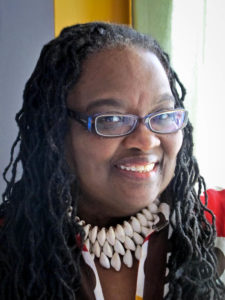 Elaine Hegwood Bowen, M.S.J., is the Entertainment Editor for the Chicago Crusader. She is a National Newspaper Publishers Association 'Entertainment Writing' award winner, contributor to "Rust Belt Chicago" and the author of "Old School Adventures from Englewood: South Side of Chicago." For info, 
 or email: