Chicago Football Classic partners with area businesses
Collaboration enabled awarding of scholarships and laptops to students at Soldier Field
The Chicago Football Classic in collaboration with Sherman Dodge of Skokie, BMO Harris Bank, NBC 5 Chicago and Chicago Cubs Chairman Tom Ricketts awarded $200,000 in scholarships to Chicago area students at Soldier Field on Friday, July 30.
In addition to the scholarships given away, the group also presented students with laptops. The event was designed to assist students with the financial challenges inherent in receiving a higher education.
"Unfortunately, there will not be a game again this year," said Chicago Football Classic, Inc., via a statement.
"However, it's the 24th anniversary of the Chicago Football Classic (CFC), and their passion, activism, and mission to serve as many students as possible in the Chicagoland area continues—in large part because of the commitment and generosity of ongoing sponsors."
According to the CFC, corporate leaders throughout Chicagoland partnered with the CFC to award $5,000 scholarships to 40 area students.
The group included David Dickens of Sherman Dodge of Skokie, Ron Redd, Senior Vice President of BMO Harris Bank and Emma Asante with NBC 5. The three organizations are long-time partners and supporters of the Classic.
In 2020, the CFC honored 20 deserving students in the Chicagoland area on the South and West sides with laptops and $5,000 scholarships to 13 Historically Black Colleges and Universities (HBCUs).

The CFC connects Chicagoland students with educational institutions through direct scholarships, HBCU College Fairs, Career Fairs, and an informative HBCU Week. The annual Golf Outing and Jeep raffle generate scholarship funds.


In 2021, the CFC said they are excited to continue their mission to support the educational goals of disadvantaged youth and ensure that those deserving scholars are not deprived of the opportunity to receive a higher education from Historically Black Colleges and Universities.


The group said the new incoming college freshmen from the Chicagoland area will receive their scholarships and a new laptop thanks to the collaborative effort of the CFC and "Christmas in the Wards." Returning scholars that were gifted scholarships in 2020 will get an additional $5,000 for the upcoming school year.


The Chicago Football Classic, Inc. (CFC) is a non-profit organization whose mission is to inspire African-American high school and college students through support for programs, initiatives, and events that increase awareness of opportunities to achieve educational excellence.


The CFC was founded on the principle of valuing the rich experience offered by Historically Black Colleges and Universities.


Since its conception in 1997, the CFC Scholarship Fund, Inc. has awarded millions of dollars in scholarships. To learn more about CFC or to donate online, visit www.chicagofootballclassic.org.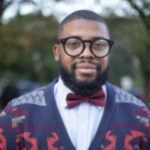 Joseph Phillips is the Sports Editor for the Chicago Crusader Newspaper. He is a Chicago native, who has been a sports writer for over 17 years. He also hosts the SC Media News and Sports Network Q&A radio show on WHPK 88.5 FM Chicago.