In May, Chicago Cubs Charities named North Lawndale College Prep senior Freddie Golden as its 2022 Cubs Scholar and Chicago Scholar for the 2021-22 school year.
According to Chicago Cubs Charities, Golden was awarded over $1 million dollars in academic scholarships to the college of his choice.
"I was checking the mail every day. I was just so eager to continue to receive these letters," Golden said.
Golden thanked his mother for helping motivate and guide him throughout the process. "She is my cornerstone and strongest supporter. I get my motivation from her every day."
With the motivation and guidance of his mother, Golden is recognized as a tri-sport athlete, a Peace Warrior participant, and a member of the National Honor Society.
The group said Golden worked very hard to get where he is today. He credits Cubs Charities and Chicago Scholars for his desire to be a positive influence in his West Side community.
Golden's story of academic achievement and success is an inspiration to those in his community and to children around the world.
About the Cubs Scholars Program
The Cubs Scholars program, launched in 2013, offers high-potential Chicago students with demonstrated need for financial contributions an opportunity to participate in a team-sponsored mentorship program.
Each recipient receives a $20,000 scholarship upon their enrollment in a four-year college or university and participates in a mentoring program with help from Cubs College Prep.
The mentoring program prepares scholars for the transition from high school to college. Students who are a part of the Cubs Scholars program are also a part of the Chicago Scholars program. This year, Chicago Scholars is celebrating 26-years of serving Chicago's talented young people.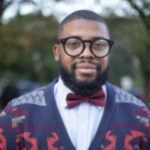 Joseph Phillips is the Sports Editor for the Chicago Crusader Newspaper. He is a Chicago native, who has been a sports writer for over 17 years. He also hosts the SC Media News and Sports Network Q&A radio show on WHPK 88.5 FM Chicago.