With nearly six months to go, Cook County's current jail population is the highest in four years, according to a Crusader analysis of data from the Cook County Sheriff's Office as of July 18.
With reports of Chicago police making fewer arrests and residents reporting less crime, the data raise questions as Cook County officials continue to use electronic monitoring as an alternative to reduce its jail population. The electronic monitoring program keeps defendants who commit low-level offenses out of jail.
In the last four years Cook County, the nation's third largest jail system behind New York City and Los Angeles, has seen its jail population fluctuate. The Cook County Sheriff's Office releases daily jail population figures on its website. The Crusader analyzed Cook County's jail population data that goes back to 2018.
According to the latest data as of July 18, the Cook County jail population stands at 5,711. That's the highest since 2018, when the Cook County jail population was 5,814. Blacks make up 72.3 percent of the population. That's the highest since 2020 when 72.85 percent of the system's 5,388 inmates were Black.
As of July 18, Latinos make up 19 percent of the jail population and whites make up 7.8 percent. The Latino percentage is the second highest in four years for that ethnic group. The white percentage of 7.8 is the second lowest in four years after 2021, where white defendants made up nearly 7.4 percent of the Cook County jail population.
In regard to the age of inmates, defendants younger than 25, who historically have the second highest incarceration rate, make up 23.3 percent of the current jail population, the lowest in the past four years.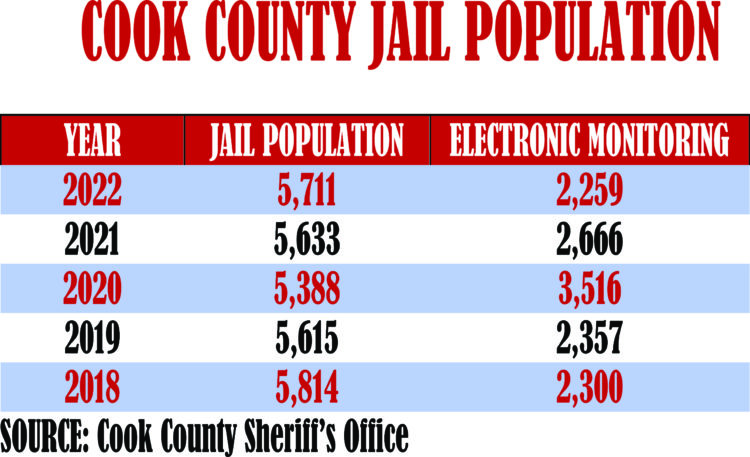 Defendants between 25 and 34, which historically make up the largest percentage of the jail population, make up 39.3 percent of the current jail population, Cook County data show. That's the second highest percentage in that age group since 2018.
The increased jail population comes despite a July 15 Sun-Times investigation that shows, as violent crime surged, Chicago police have made arrests in just 12 percent of crimes reported last year, the lowest level since at least 2001. The report said the overall arrest rate in Chicago peaked at nearly 31 percent in 2005 and has dropped steadily. The report also noted the numbers of traffic stops, tickets and investigative stops that involve patting down or searching pedestrians have all plummeted. The report said investigative stops dropped by more than half between 2019 and last year, falling from 155,000 citywide to 69,000.
Still, with six months left in the year, the Cook County jail population may top that of 2018, when 5,814 defendants were behind bars.
According to the Cook County Sheriff's website, the Cook County Department of Corrections (CCDOC) admits approximately 100,000 detainees annually and averages a daily population of 9,000.
The Cook County jail covers more than eight city blocks with 10 divisions, a health services facility, two education departments, a privatized food service and commissary agency, and four additional onsite Sheriff's departments.
In 2017, after years of being cited for overcrowding, the U.S. Justice Department ended 40 years of federal oversight of the Cook County jail system after it found the complex met the terms of a 2010 consent decree.
While under federal oversight, the U.S. Justice Department in 2007, after investigating allegations of abuse and unconstitutional confinement, in a report found glaring deficiencies in medical care, detainee safety and incidents where excessive force was used on inmates.
Electronic monitoring has since been used to address allegations of unconstitutional confinement. Half-way through the year, the number of defendants on electronic monitoring is 2,259 as of July 18.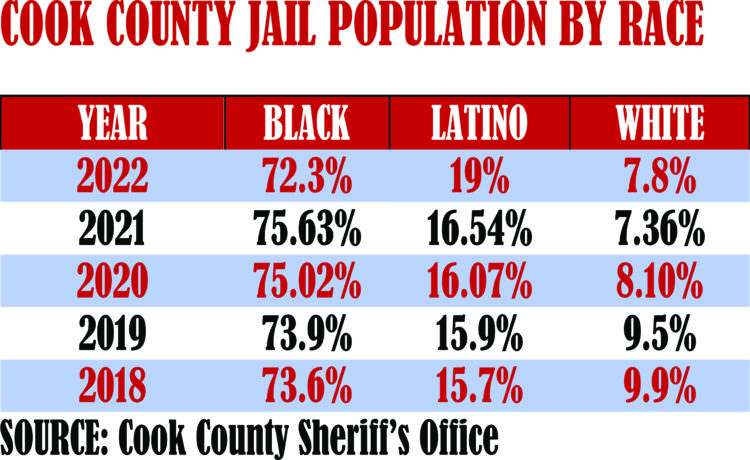 Currently, about 72.3 percent of defendants on electronic monitoring are Black, 19 percent are Latino and 7.8 are white. Last year, 2,666 defendants were on electronic monitoring.
During the pandemic, electronic monitoring was emphasized to keep the Cook County jail population to over 4,200 as the complex at one point became the nation's epicenter for the coronavirus. During electronic monitoring, the sheriff's office tracks the defendants' movements while they wear an ankle bracelet as they await trial.
Under Governor J.B. Pritzker's sweeping criminal justice legislation in 2021, defendants on electronic monitoring are granted two essential days each week to move freely for 8-hour periods without the watchful eye of the authorities.
Defendants are expected to use those days for productive activities such as searching for a job, shopping for groceries and undergoing drug treatment. But a recent investigation shows that since January 1, two dozen defendants in the electronic program committed crimes during those two days where they were not monitored, prompting the Cook County Sheriff's Department to propose an end to permitting those essential days.