Former NBA player and Chicago high school standout Tim Hardaway was honored with a jersey retirement ceremony at his alma mater, Carver Military Academy High School, on Monday, August 29, on Chicago's South Side.
The event was a part of a four-day celebration created by the "Support Group" to honor Hardaway's 2022 induction into the Naismith Basketball Hall of Fame.
The events included a high school visit, celebratory reception and more as part of Chicagoland All-Star Classic 2022.
Hardaway is a former professional basketball player and coach who played in the National Basketball Association (NBA) for the Golden State Warriors, Miami Heat, Dallas Mavericks, Denver Nuggets and the Indiana Pacers.
According to his bio, Hardaway was also a five-time NBA All-Star and All-NBA Team selection. He won a gold medal with the United States national basketball team at the 2000 Summer Olympics and was known for his crossover dribble, which was dubbed the "UTEP two-step" by television analysts.
He was the 1989 WAC Player of the Year. He recorded 5,000 points and 2,500 assists, second fastest in NBA history after Oscar Robertson. Hardaway accomplished it in 262 games; Robertson took only 247. He held the record for most assists in Miami Heat franchise history with 1,947 for over a decade.
Hardaway shares the record for second most steals in an NBA Playoffs game, with 8 in Game 2 of the 1991 Western Conference Semifinals against the Los Angeles Lakers and in Game 4 of the 1992 Western Conference First Round against the Seattle SuperSonics.
In 1991–92, Hardaway became the 7th player in NBA history to average 20 points (23.4 ppg) and 10 assists (10.0 apg) in a season, a feat he accomplished again in 1992–93 (21.5 ppg, 10.6 apg).
He is the father of current NBA player Tim Hardaway Jr.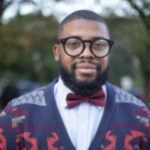 Joseph Phillips is the Sports Editor for the Chicago Crusader Newspaper. He is a Chicago native, who has been a sports writer for over 17 years. He also hosts the SC Media News and Sports Network Q&A radio show on WHPK 88.5 FM Chicago.