In a recent announcement by the Chicago Sky and the WNBA, General Manager/Head Coach James Wade was selected as the WNBA Coach of the Month for the month of July.
The league announced Wade's accomplishment on Tuesday, August 2.
According to the Sky, Wade led Chicago to a 9-2 record during the month of July, lifting the team to the top spot in the Eastern Conference. After receiving the honor in June, the Sky continued to average a league-best in assists per game (23.0 APG) and ranked No. 2 in points per game (86.0 PPG).
In early July. Wade served as one of the head coaches for the 2022 AT&T WNBA All-Star Game, along with the rest of the Sky coaching staff. Later last month, he led the Sky to its 20th win of the season and helped the team become the first WNBA franchise this season to clinch a 2022 playoff spot.
Earlier this year, Wade was also recognized for his coaching achievements after being chosen to join the USA Women's National Team coaching staff at the 2022 USA National Team training camp and FIBA World Cup Qualifying Tournament in Washington, D.C.
His accolades go back to 2017 as well, serving as the Minnesota Lynx assistant coach for two years and supporting the team to winning the 2017 WNBA Championship, before taking over as head coach for the Sky in 2019. He also served as the assistant coach for the San Antonio Stars from 2012-16 and coached in the EuroLeague for BLMA in France and UMMC Ekaterinburg in Russia, where he guided Ekat to the 2018 and 2019 EuroLeague titles.
Since joining the Sky, Wade led the team to its first WNBA championship and second conference championship in 2021. He was also honored as the 2019 WNBA Coach of the Year during his first season in Chicago.
Information courtesy of the Chicago Sky.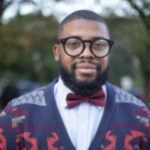 Joseph Phillips is the Sports Editor for the Chicago Crusader Newspaper. He is a Chicago native, who has been a sports writer for over 17 years. He also hosts the SC Media News and Sports Network Q&A radio show on WHPK 88.5 FM Chicago.