In July, the Chicago Bears hosted their 2022 Small Business All-Pros Game Day Eats edition (presented by Visa), which will provide four restaurants or food service businesses with four weeks each of a Bears marketing partnership.
According to the Chicago Bears, all restaurants or food service businesses located within the Chicago area will be eligible. The Bears marketing partnership assets will include placement on the team's official social media channels, ChicagoBears.com, within the team's email newsletters and within the team's stadium promotions.
The group said all applications are open for businesses now through Sunday, July 24, online at ChicagoBears.com/SmallBusinessAllPros.
All Small Business All-Pros winners will be announced the week of September 5. This event will mark the third year of the Bears Small Business All-Pros initiative.
Last season, Moody's Pub, Cocoa Chili, Peppo's Subs and Cleo's Southern Cuisine were all selected.
In 2020, 10 Small Business All-Pros winners brought to you by Proven IT were named. Principle Barbers received a marketing partnership throughout the 2020 season, as well as a technology assessment provided by Proven IT; nine additional Small Business All-Pros received digital and social marketing exposure through Bears assets during a week in the season, including 4P Industrial Cleaning Corporation, Barbee Tax Consulting, LLC, Bark Bark Club, Boco Services, Inc., Colfax Corporation, Jus Sandwiches, Lillstreet Art Center, Small World Bar & Grill and Thalia Hall.
Visa will provide resources for all small businesses through programs tailored to fit the needs of local communities. To date, Visa has helped to digitally-enable more than 24.8 million SMBs worldwide as part of the multi-year goal it set in 2020 to digitize 50 million SMBs.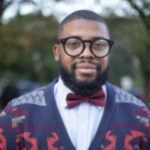 Joseph Phillips is the Sports Editor for the Chicago Crusader Newspaper. He is a Chicago native, who has been a sports writer for over 17 years. He also hosts the SC Media News and Sports Network Q&A radio show on WHPK 88.5 FM Chicago.