With the 18th pick of the 2022 NBA Draft, the Chicago Bulls selected Dalen Terry of the University of Arizona.
According to his bio, Terry was named to the Pac-12 All-Defensive Team as a sophomore in 2022. He appeared in all 26 games for the Wildcats, starting 14 games, while averaging 4.6 points, 3.2 rebounds, 1.5 assists per game.
Terry's highest point total came against in-state rival Arizona State, scoring 13 points, while shooting 3-of-3 from three-point range. Arizona would be placed on self-imposed postseason ban, thus Terry would not play in the 2021 Pac-12 Tournament or the 2021 NCAA Tournament.
Terry started 37 games for the Wildcats in his sophomore season and averaged eight points, 4.8 rebounds, 3.9 assists and 1.2 steals per game.
Terry finished second in the Pac-12 in assist-to-turnover ratio (2.84), sixth in assists per game (3.92), eighth in FG% (50.2) and ninth in steals per game (1.24). His bio states he was one of the marquee defensive players in the conference, earning him All-Defensive First Team.
His bio also states Terry helped Arizona to a 33–4 record, winning the 2021 Roman Main Event, Pac-12 Conference Regular Season and 2022 Pac-12 Tournament Titles.
After the school returned to the 2022 NCAA Tournament for the first time since 2018, Terry scored a career-high 17 points in his final game as a Wildcat against Houston.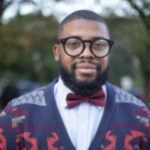 Joseph Phillips is the Sports Editor for the Chicago Crusader Newspaper. He is a Chicago native, who has been a sports writer for over 17 years. He also hosts the SC Media News and Sports Network Q&A radio show on WHPK 88.5 FM Chicago.