Bulls Torrey Craig dribbles near a defender in the team's 96-94 loss to Orlando on Wednesday, November 15, at the United Center. Photo by Marcus Robinson.
The Chicago Bulls would lose another tough matchup, 96-94 to Orlando on Wednesday, November 15, at the United Center.
The Bulls lost on a last second shot by last years NBA Rookie of the year Paolo Banchero. Banchero finished with 17 points in the contest.
"When Zach hit the last 3, we all just looked at the clock, saw how much time was left and knew that we were gonna be able to get a good look," said Banchero, via Associated Press. "Coach drew it up for me to get it in the post. When we went out there, I thought Patrick Williams was gonna be on me, but it was, so I wanted to attack the rim if I got the ball. I tried to back him in as far as I could and got a turnaround off."
At one point during the third quarter, the Bulls were down by as many as 19 points, but would fight back and tie the game at 94 (all) in the final seconds of the fourth quarter.
Despite of being mentioned in recent trade rumors, Bulls guard Zach LaVine hit a huge three pointer to tie the game prior to Banchero game winning shot.
LaVine has been in a slump lately and is struggling from the field. He is currently averaging 21.7 points per game on 40 percent field goal shooting.
Final Score: Chicago 94, Orlando 96
According to Chicago Bulls PR, guard Jevon Carter entered last night's matchup ranked T-6th in the NBA in 3FG%, shooting 50 percent (19-38 3FG) from behind the arc this season. Carter is averaging 2.1 3FG per game on .607 3FG% over the last 8 games, and has hit multiple triples in 4 of the last 5 contests.
Crusader Player of The Game:
Zach LaVine, Bulls, led team in scoring with 19 points.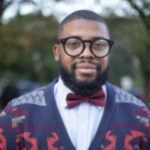 Joseph Phillips is the Sports Editor for the Chicago Crusader Newspaper. He is a Chicago native, who has been a sports writer for over 17 years. He also hosts the SC Media News and Sports Network Q&A radio show on WHPK 88.5 FM Chicago.