Former NBA center and Global Ambassador Bob Lanier passed away at the age of 73 on Wednesday, May 11, according to several reports.
Lanier was known as one of the greatest NBA big men of all time and was also famously known for his shoe size, "a size 22."
A center who played for the National Basketball Association's Detroit Pistons and Milwaukee Bucks, Lanier was inducted into the Naismith Memorial Basketball Hall of Fame in 1992.
"Beyond his playing days he became the true ambassador of the NBA as he travelled around the nation and the world, inspiring young people and using his basketball fame to inspire them to achieve their dreams, whatever they were," said Reverend Jesse Jackson in a statement.
"His family, the NBA and his friends will miss him as we pray with and for them during this time of mourning and grieving."
During his career, Lanier played 14 seasons in the NBA and made eight NBA All-Star Games as a player. He was named Most Valuable Player of the 1974 All-Star Game and accomplished his dream despite a long history of knee injuries.
Bio notes on Lanier indicate that he played in 959 professional games, averaged 20.1 points per game, averaged 10.1 rebounds, delivered 3.1 assists, 1.5 blocks, and 1.1 steals.
Lanier also scored a career total of 19,248 points, grabbed 9,698 rebounds, and played 67 career playoff games. His No. 16 jersey was retired by both the Pistons and the Bucks. His No. 31 jersey was retired by St. Bonaventure University where he played college basketball.
Jackson said everyone who knew Lanier genuinely described him as a gentle giant and a really nice person.
He was the number one overall pick in the 1970 NBA draft by the Detroit Pistons but ended his career as a Milwaukee Buck," Jackson stated.
Jackson said Lanier's family, the NBA and his friends will miss him dearly.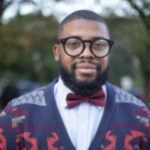 Joseph Phillips is the Sports Editor for the Chicago Crusader Newspaper. He is a Chicago native, who has been a sports writer for over 17 years. He also hosts the SC Media News and Sports Network Q&A radio show on WHPK 88.5 FM Chicago.