Have you ever had the cold, hard steel barrel of a 357 Mag­num rested perilously against the temple of your head by a stranger in the dark of night?
Have you ever experienced the additional trauma the pre­dicament evoked as you realized the gunman was one you ideal­ly would call in such an emer­gency; one sworn to serve and protect?
Unfortunately, the answer to both questions is a difficult "YES" for me. The confrontati­on illustrated how the perils of 'Living While Black' can accele­rate from zero to a hundred in a flash; how tenuous our lives can be in one horrific flash.
Here's what happened:
One evening in the 80s, I was on assignment as a Gary Post-Tribune reporter, covering an event at the Genesis Con­vention Center in downtown Gary. I was there early, about an hour before the event's start, so I hung out in the Director's of­fice and got caught up on up­coming events.
Somewhere at the conclusi­on of that conversation, she got a business call. She needed in­formation left in her purse, in the trunk of her car parked in the lot adjacent to the building.
Because she couldn't get off the conference call immediate­ly, she pleaded with me to take her keys, go to the car, retrieve her purse and bring it back – as a personal favor. I really didn't have anything else to do and it seemed simple enough.
I saw the car she identified and popped the trunk. I had to dig around her cluttered trunk for a minute but finally spotted the described purse. I snatched it up, tucked it onto one arm, closed the trunk and headed back to the main entrance of the Genesis Center.
As I was walking, two men had stepped in toward me at such a pace I thought they we­re on their way to somewhe­re in the distance. Instead, one stood in front of me showing his badge, while the other held my arm and placed his ser­vice revolver against my head as they began barking at me in the dimly-lit spot.
One shouted, "Police. Where you going with that purse you just stole from the trunk of that car, muthaf*#¥@!"
As I was stuttering trying to explain, the other said, "Give it to me and don't make no stu­pid ass move or I'll blow your GD brains out."
Trying to remain as motion­less as a mannequin, I dropped the purse to the ground then tried to explain, "I got the keys from the Director (who I cal­led by name). She asked me to go to her car and get her purse."
While one cop continued to restrain me, his weapon resting ominously against the side of my head, the other took out his radio, summoned the Director, and confirmed my account of what was happening. Finally, the weapon was relaxed and holstered while the gunman unleashed his grip on my arm.
"You lucky she confirmed cause your story sounded like some bullshit," one cop joked. The other chimed in, "Your ass was about to go to jail." They high-fived each other and con­tinued their patrol of the par­king lot and grounds surroun­ding the Genesis Center.
No apology. No acknowledge­ment of wrongdoing or over-re­action. No reference at all to what had just happened—that a nervous twitch might have in­advertently resulted in pulling the trigger; that any body mo­vement on my part could ha­ve been interpreted as resistance with a similarly gruesome out­come.
It could have ended much worse. But it nonetheless was a sad reminder of the fragili­ty of everyday life in America for Blacks when it comes to the most innocuous, random en­counters with overzealous co­ps too often anxious to trample citizens' rights, place innocent people in danger and take lives "in the line of duty" with no fear of reprisal.
My story is not dissimilar to the experience of Black men (and women) throughout this nation since the establishment of police in America. The soci­ety's numbing indifference to police brutality suggests that the "exception" has tragically become "the rule."
We don't need any more dis­cussion on the issue. The on­ly things worth talking about from this point are the answers. Enough is enough.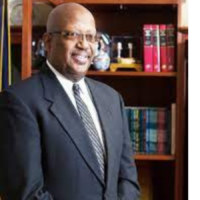 CIRCLE CITY CONNECTI­ON by Vernon A. Williams is a series of essays on myriad to­pics that include social issues, human interest, entertainment and profiles of difference-ma­kers who are forging change in a constantly evolving society. Williams is a 40-year veteran journalist based in Indianapo­lis, IN – commonly referred to as The Circle City. Send com­ments or questions to: vernona­[email protected]