In a recent release, the Chicago Bears announced that Equipment Manager Tony Medlin received the "Salvation Army's Others Award" at the 2022 Annual Civic Luncheon in May.
"The Salvation Army partnership means so much to me, knowing the organization helps the less fortunate and gives people a chance to have a true outlet of giving," said Medlin. "The Bears are a giving organization, and I feel very fortunate to be a part of that and the values of helping people."
The Salvation Army noted Medlin was honored for his service, leading the Chicago Bears Coat Drive for 33 years. The Bears and Medlin, their long-time equipment manager, formed a strong partnership with both Jewel-Osco and the Salvation Army.
"We are grateful for Tony's leadership of this critical program that keeps kids warm and protected," said Lt. Colonel Lonneal Richardson, Divisional Commander of The Salvation Army Metropolitan Division.
"His 33 years of dedication of service to others truly embodies the spirit of this award."
Medlin addressed an audience of 500 via video. The award was accepted on his behalf by Bears' Vice President Patrick McCaskey.
The History of The Salvation Army:
The Salvation Army (TSA) is a Protestant church and an international charitable [organization] headquartered in London, England. The [organization] reports a worldwide membership of over 1.7 million, comprising soldiers, officers, and adherents collectively known as Salvationists. Its founders sought to bring salvation to the poor, destitute, and hungry by meeting both their "physical and spiritual needs."
It is present in 132 countries, running charity shops, operating shelters for the homeless and disaster relief, and humanitarian aid to developing countries. The Army's purposes are "the advancement of the Christian religion… of education, the relief of poverty, and other charitable objects beneficial to society or the community of mankind as a whole."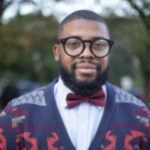 Joseph Phillips is the Sports Editor for the Chicago Crusader Newspaper. He is a Chicago native, who has been a sports writer for over 17 years. He also hosts the SC Media News and Sports Network Q&A radio show on WHPK 88.5 FM Chicago.