The Chicago Bears will celebrate Play Football Month throughout the month of August, according to the organization.
The charitable arm of the Chicago Bears, Bears Care, invested over $430,000 to support youth football initiatives in northern Illinois.
Grants were awarded to fund the development and expansion of youth flag football programs in underserved neighborhoods in Chicago and to provide continued support to the Chicago Park District's Junior Bear and Inner City Flag Football programs.
Bears Care also provided critically needed resources to help properly equip high school girls participating in the rapidly expanding Chicago Public Schools Girls High School Flag Football League and to fully fund the start-up of the new Northern Illinois Girls Flag Football League in Rockford.
Following is a list of other events that take place in the month of August:
Community Day:
On August 1, the Chicago Bears hosted a Community Day for more than 700 youth, high school, and girls flag football players and coaches.
Meijer Chicago Bears Family Fest:
The Chicago Bears held the Meijer Chicago Bears Family Fest on August  9, at Soldier Field. Approximately 500 tickets were donated to community groups, including youth football teams.
A rematch of the 2021 Chicago Public League final will be scrimmaged at halftime between Back of the Yards and Prosser during the preseason game against the Kansas City Chiefs on August 13. Additionally, two Junior Bear teams, Lafollette Park and Lindblom Park, will also partake in a scrimmage during halftime.
On Friday, August 26, the girls' flag varsity game will begin at 3 p.m., followed by the boys' varsity game at 4:30 p.m. As part of a partnership with Nike, the Bears aim to increase girls' flag participation and give them the same platforms as the boys' football programs.
Chicago Public League Girls Flag Football Jamboree:
On Saturday, August 27, the Bears and Chicago Public Schools will hold a jamboree to kick off the girls' flag football season. Six Western Suburban Conference teams will join 50 CPL teams for a clinic and scrimmage. Additional details will be available closer to the event date.
Girls Flag/Boys Varsity Friday Night Lights Game (Amundsen-Lane Tech at Winnemac).
To learn more about Bears Care, visit ChicagoBears.com/BearsCare.
Information courtesy of the Chicago Bears.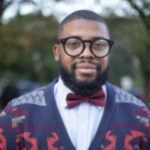 Joseph Phillips is the Sports Editor for the Chicago Crusader Newspaper. He is a Chicago native, who has been a sports writer for over 17 years. He also hosts the SC Media News and Sports Network Q&A radio show on WHPK 88.5 FM Chicago.