In June, the Chicago Bears partnered with USA Football to host a free USA Football Blitz event at the ComEd Rec Center at Addams/Medill Park, 1434 S. Loomis, in Chicago. The event featured exciting youth football clinics and giveaways, yard games and other exciting activities for kids and families. The Chicago Bears Mini Monsters program, presented by Advocate Children's Hospital, also featured a football skills obstacle course. The day's activities opened with Registration and Fan Fest, followed by the USA Football "First Down" Clinic, offered for Middle and high school girls.
Midmorning, a USA Football "First Down" Clinic (ages 5-14, coed) was held. The event concluded shortly after 3 p.m., following the USA Football Junior Bears and USA Football "First Down" Clinic (Special Education) sessions.
This month represented only the first of a dozen Blitz events taking place nationwide through August. According to the Chicago Bears, USA Football is the sport's national governing body and a member of the U.S. Olympic & Paralympic Committee.
About USA Football
USA Football designs and delivers premier educational, developmental and competitive programs to advance, unify and grow the sport. As the sport's national governing body, a member of the U.S. Olympic & Paralympic Committee and the United States' sole delegate to the International Federation of American Football, USA Football assembles and directs U.S. National Teams for international competition. The Indianapolis-based independent non-profit partners with leaders in medicine, child advocacy and athletics to support positive football experiences for youth, high school, and other amateur players. For more information on future events, visit usafootball.com.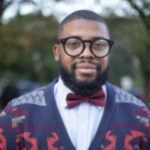 Joseph Phillips is the Sports Editor for the Chicago Crusader Newspaper. He is a Chicago native, who has been a sports writer for over 17 years. He also hosts the SC Media News and Sports Network Q&A radio show on WHPK 88.5 FM Chicago.