To add strength at the tight end position for the 2022-23 season, the Chicago Bears signed free agent tight end Ryan Griffin to a one-year deal in April.
According to the Chicago Bears, Griffin enters his 10th NFL season in 2022, with prior stops in Houston and with the New York Jets.
A sixth-round (201st overall) selection by the Texans in the 2013 NFL Draft, Griffin has played in 119 career games with 67 starts. In his nine seasons, the tight end has totaled 206 receptions for 2,158 yards and 14 touchdowns. He also has competed in four career postseason games with three starts.
Griffin spent the past three seasons with the Jets and the previous six with the Texans. In 2021, Griffin competed in 14 contests (12 starts) and caught 27 passes for 261 yards and two touchdowns. In his first season with the Jets in 2019, he started in 13 games and totaled 34 receptions for 320 yards and a season-high five touchdowns, which tied for the third most among AFC tight ends in 2019, and made him just the eighth tight end in franchise history to do so. He also joined Delanie Walker as the only tight end in league history to score two touchdowns and a two-point conversion in the same game when he did so at Jacksonville.
In his last season with Houston in 2018, he appeared in 14 games (11 starts) and recorded 305 yards on 24 receptions throughout the regular season. Although limited to seven games after being placed on Injured Reserve in 2017, Griffin still totaled 158 yards and a touchdown on 13 receptions during the start of the Texans' 2017 season.
In 2016, Griffin appeared in all 16 games and registered career highs in both receptions (50) and receiving yards (442). He also scored two touchdowns and appeared in two postseason contests.
After returning from IR for the remaining nine games of the 2015 season, Griffin logged 251 receiving yards and two touchdowns on 20 receptions. He also made his first postseason debut, where he caught three receptions for 29 yards. In 2014, he appeared in all 16 games (two starts) for the first time in his career and tallied 91 yards on 10 receptions and scored a touchdown.
As a rookie in 2013, Griffin appeared in 15 games (eight starts). He caught 19 passes for 244 yards, recording his highest receiving average in his career (12.8 avg.). His 12.8 average ranked in the top 10 among all rookie tight ends that year.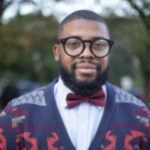 Joseph Phillips is the Sports Editor for the Chicago Crusader Newspaper. He is a Chicago native, who has been a sports writer for over 17 years. He also hosts the SC Media News and Sports Network Q&A radio show on WHPK 88.5 FM Chicago.