With a desire to build real men on the court and in the community, Tim Barnes has managed to pursue his dreams as both a professional basketball player overseas and a philanthropist in the States.
Since last week, Barnes has been working out with high school students from his alma mater Southland College Prep. His goal is to give back to the place that started it all for him and helped pave his road to success.
"It's always important for me to give back to the community," said Barnes. "Growing up, I didn't have someone to look up to that was from the area and was doing big things. I just want to be that example for the kids and be that guide that they can reach out to if they need help."
Recently, Barnes was named the 2022 MVP of the Universal Basketball Union League, in Hamburg, Germany. He became the first player to win the award on his team and the youngest player to win the award since 2015.
Barnes is also committed to helping fund mental health research. He has committed $5,000 of the MVP bonus money to the cause and believes that mental health is an issue that many people struggle with but "don't say anything" about.
"People will forget all of the things I did, but they won't forget how I made them feel. That's what I focus on," Barnes said via ABC7.
In addition to his support for the community, Barnes, a graduate of Beloit College, credits much of his success in basketball to his Southland roots.
"I can never fully repay all that they've given to me," Barnes said.
Southland's athletic director Homer Thomas said he sees the impact Barnes' investment has had on the students.
"He really cares about the kids and he knows the game," Thomas said. "He is a professional and the kids listen to him. They can identify with him because he came from here."
In 2020, Barnes established a scholarship fund; an award is given to a Southland student-athlete every year.
The 2016 graduate and alum bought uniforms for the boys' varsity basketball team and [one day] flew in from Armenia, where he was playing at the time, to support the team in their first home game in their new field house.
"It's a big thing for me to see the growth and progress," Barnes said. "It's great to see how invested the school is in the students both athletically and academically."
This past season in Germany, Barnes led the league with eight 30+ point games, three 40+ point games and a career-high 45 point-performance.
This summer, the five-foot-nine, 140 pound guard out of Matteson, IL, is pursuing his NBA dream. He has had workouts with the Indiana Pacers, Los Angeles Clippers and the New York Knicks.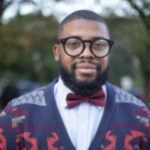 Joseph Phillips is the Sports Editor for the Chicago Crusader Newspaper. He is a Chicago native, who has been a sports writer for over 17 years. He also hosts the SC Media News and Sports Network Q&A radio show on WHPK 88.5 FM Chicago.